Jordan proud to be 'foster carer' of the Middle East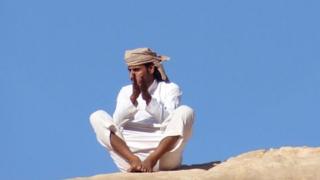 The defection of a Syrian air force pilot who flew his jet to Jordan and asked for sanctuary is causing a certain amount of awkwardness in Amman. In this volatile corner of the world, Jordan is a country which would rather be known for its hospitality, than for this kind of headline, says the BBC's Jim Carey.
I could well imagine the first word uttered by a new baby in Jordan might not be the Arab name for mama or papa. It could be "halla".
It is by far the most common word I hear.
I say "hello" they say "halla". I say "goodbye" they say "halla". When I say "thank you" they say "halla". And when I say "no thank you" they say "halla".
Halla is an Arabic word for welcome.
Currently pouring across Jordan's northern border, tens of thousands of Syrians - many requiring urgent medical treatment - come in search of healing, housing and halla.
These latest refugees join the thousands of Libyans already receiving treatment here, and the near two million Palestinians who have already found sanctuary in the country.
But as I traverse this arid land a question demands an answer. How can a country which, unusually for this region has no oil and very little mineral resources, a land blistered by a hot sun and relentlessly thirsty - afford to be so nice to everybody?
Salla, a Bedouin musician from Wadi Rum in the south, offers one answer. "It's always been the culture of this region to welcome strangers," he says.
But with a precarious economy suffering in the face of the global financial crisis, Jordan's halla is also its life support system.
The United Nations is just one of the organisations pouring money into the Jordanian economy to help the country cope with the latest influx of Syrian refugees. And the current Libyan government pays the medical bills of its citizens being healed in Jordan's quality hospitals.
Palestinian refugees have brought their own money into the country - but they have attracted further UN and other aid packages.
"We are the foster carers of the Middle East," observes Salomon, a hospital worker in the capital Amman.
Jordan treads a remarkable path in the region as a friend to many and an enemy to few.
A co-founder of the Arab League, Jordan is still one of the few countries around here to maintain diplomatic relations with Israel. It also maintains relationships with both the US and Iran.
Usually, in a world which pursues alliances and enemies, being a friend of one is to be the enemy of another. Somehow Jordan is doing it differently.
In Aqaba, Jordan's only sea port, there are big government efforts to welcome international trade. When local restaurant owner Abu finds out I am from the UK his smile widens.
"Ah," he says, "our king was educated in your country - for this you will not pay for your prawns."
In the end it is all I can do to stop him giving me the whole main course for nothing.
"Halla" he says.
Strategic friendships
The US and EU pour billions of dollars into Jordan to help it stay so friendly.
All over the hotels near the country's biggest tourist attraction, the ancient city of Petra, I notice stickers. They say 'USAID - A Gift From The American People'. It is a logo stuck on many things, from air conditioner to signposts.
Jordan uses this money from its strategic friendships to build up an industry based on halla - tourism.
Petra's vast array of gargantuan temples and tombs are stunning but so are the hefty entrance fees. Jordan needs to cash in on its history.
You pay again to view the fetid green puddle at Bethany, the place where Jesus is thought to have been baptised.
The spot now lies within a militarised no-man's land lining either side of the border with Israel and is the only part of the river Jordan which people are allowed to access - but under escort and for quite a price.
Both Israel and Jordan cash in on this unattractive biblical attraction.
And while two Israeli soldiers with machine guns watch people in white robes baptising each other on the Israeli side, on the other, a Jordanian soldier stares as members of our group take photographs.
The unsavoury situation is aptly and theatrically played out by a white dove, coaxed out of hiding by the guide with a handful of grain.
The dove has the manky plumage of an inner city pigeon, and is vigorously trying to peck at an unreachable itch on its back. It runs away whenever anyone draws near with their camera. A paranoid, knackered, flea-bitten dove of peace.
And there is another problem. Tourism has been hit severely by the international perception that all of the Middle East is unstable and best avoided.
But if there are fewer tourists here to experience Jordan's halla, the country can be sure there will be more refugees.
It is a precarious line to tread - relying on halla come what may.
How to listen to From Our Own Correspondent:BBC Radio 4: A 30-minute programme on Saturdays, 11:30 BST.
Second 30-minute programme on Thursdays, 11:00 BST (some weeks only).
Listen online or download the podcast
BBC World Service:
Hear daily 10-minute editions Monday to Friday, repeated through the day, also available to listen online .
Read more or explore the archive at the programme website .