Young Egyptians wary of new president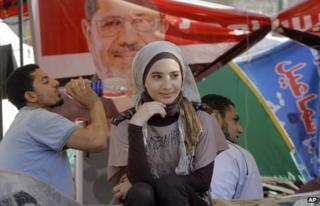 Sherine Sobhi watched impatiently as two colleagues wearing hijabs cheerfully congratulated each other on the win of Mohammed Morsi in the presidential run-off election.
"Do not be too optimistic," the 29-year-old communications engineer warned them, unable to hold her tongue any longer. "We will see soon what your president will do."
Ms Sobhi, who is a Coptic Christian, says the chairman of the Muslim Brotherhood's Freedom and Justice Party (FJP) was not her choice for head of state:
"I do not want my country to turn into an Islamic caliphate."
She adds: "They are not ruling yet, and I hear these rumours about Christians having to pay 'jizya'," - a reference to a tax that early Islamic rulers demanded from their non-Muslim subjects.
Ms Sobhi's frustrations mirror that of a large number of young Copts, who doubt that the Islamist president-elect will want to address the grievances of their community, which makes up some 10% of the population.
Their fears come despite Mr Morsi's promises to build a "democratic, civil and modern state" that guarantees the freedom of religion, and to appoint Copts among his presidential advisers. He has also said an Islamic dress code will not be enforced.
"I cannot see his win as a victory for the revolution," Ms Sobhi says. "This is not what I went to Tahrir Square for."
Disappointment
Ms Sobhi is not alone.
For many young Egyptians, who were the beating heart of the uprising which ended the 30-year rule of Hosni Mubarak in February 2011, Mr Morsi does not satisfy their hopes for a "revolutionary" president.
As he prepares to take the oath as Egypt's first democratically-elected president, youths are voicing their fears and anxieties on social networking websites, the media which helped trigger their uprising.
"So who is going to be the president: [Mohammed] Badie or Morsi?" asked Ahmed Salah on his twitter account, referring to the Brotherhood's leader.
"Congratulations for the Sunni version of Iran," wrote Tariq Ali on Facebook.
Mr Morsi has already resigned from all his posts in the Brotherhood.
He is due to take the oath of office on Saturday, after which the ruling Supreme Council of Armed Forces (Scaf) has promised to hand over power to a civilian administration.
Challenge
Some believe that the worries over Mr Morsi's views on Christians and women are exaggerated.
"His speech has been comforting so far," says Sarah Othman, 25, who also writes a blog under the pseudonym Sarah Shombongo.
"Besides, we still do not know what sort of mandate he is going to have."
Before the results of the presidential run-off were announced , the Scaf issued a series of decrees designed to constrain the power of the president and entrench the power of the military.
Ms Othman, who wears a hijab, has fiercely criticised the Brotherhood during the past year for taking stances which she says have let down those who took part in the revolution.
She participated in the boycott of the run-off poll that was called by youth activists dismayed by the actions of the Scaf and the choice between Mr Morsi and Ahmed Shafiq, a former air force commander who served as Mubarak's last prime minister.
But Ms Othman admits that the Brotherhood are now trying to reach out and allay people's fears by steps such as the confirmation that Mr Morsi would appoint a Christian and a woman as vice-presidents.
She wants the president-elect to give a top priority to those who were neglected by the former regime.
But for Ms Othman the "red line" is the protection of hard-won freedoms like the right to protest.
"The most important thing is that they do not trample on the rights we paid a huge price for in the revolution," she adds.
"All the verbal assurances have to be transformed into reality. It is a challenge for the Muslim Brotherhood, and they are trying to be equal to it."
But Mohammed Gamal, a political activist who writes a well-known blog under the pseudonym Jimmy Hood, says that Mr Morsi will remain Brotherhood leader to the core, and that this is exactly why he will not be able to deliver "transitional justice".
"The Muslim Brotherhood are not a revolutionary stream by nature," the 32-year-old explains. "They cannot take revolutionary decisions."
Promises
Many youth groups are seeking to monitor the president-elect, to ensure he does not turn on the promises he made during his electoral campaigns.
In his programme for his first 100 days in office, Mr Morsi has made 64 promises related to bread shortages, traffic, security, fuel shortages, and cleanliness.
Shortly after he was declared the winner of the presidential run-off, a group of activists set up an online "Morsi Meter" through which they hope to monitor whether he fulfils those promises.
"[People] will be given the chance to have their observations on whether they have witnessed change," says Naglaa Metwalli, one of the activists behind the website.
The 26-year-old mother and housewife says the activists are not affiliated with any political group, and are not against the president-elect.
"We are not trying to hunt him down," she insists. "We are just trying to measure how credible his promises are."
She says that this kind of popular activism is a proof of how the revolution has brought about drastic changes in Egypt, as people, especially youths, are now not afraid to question their leaders.
Sherine Sobhi will be watching Mr Morsi closely.
"Who said that we were over with the revolution? Our work has just begun," she says firmly.