Syria unrest: Explosions rock Damascus court complex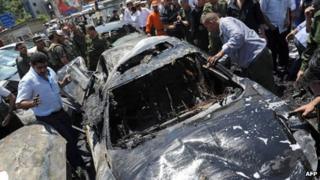 Explosions have rocked the main court complex in the Syrian capital Damascus, injuring at least three people.
State TV blamed rebel fighters for the attack, which correspondents say was a symbolic strike at the heart of the authority of President Bashar al-Assad.
Violence across the country on Thursday left 21 people dead, activists said.
Meanwhile, Turkey has begun deploying rocket launchers and anti-aircraft guns along its border with Syria after the downing of a Turkish military jet.
'Devastation'
Witnesses in Damascus reported loud explosions and plumes of black smoke from the car park of the palace of justice - Syria's highest court complex.
State TV broadcast pictures of burning cars after what it called "terrorist explosions".
Janine di Giovanni, a Western journalist in Damascus who was at the site immediately, said there was "a devastation of wrecked, charred cars - five or six - and the police were putting out the fires of it and trying to detonate what they said was another bomb".
The BBC's Jim Muir, in neighbouring Beirut, says Arabic stations were reporting the use of "sticky bombs" that are attached to the undersides of vehicles.
He says that, although militarily insignificant, this is an attack that clearly has a psychological effect.
The Syrian Observatory for Human Rights group said at least 21 people were killed elsewhere in Syria on Thursday.
It said seven people were killed as troops tackled rebel fighters in the Damascus suburb of Douma.
The Observatory said other deadly clashes took place in Harak, south of Damascus, in the town of Irbin, and in Deir al-Zour in the east.
It said four rebel fighters were killed in the central province of Homs and another in the north-western province of Idlib.
The scale of casualties cannot be verified independently as Syria severely restricts journalists' freedom of movement.
The UN says at least 10,000 people have been killed since pro-democracy protests began in March 2011. In June, the Syrian government reported that 6,947 Syrians had died, including at least 3,211 civilians and 2,566 security forces personnel.
Meanwhile, the UN refugee agency (UNHCR) has doubled its forecast for the number of people who will flee the violence in Syria this year to 185,000 .
The number of refugees has doubled to 96,000 since March, forcing the UN and its partner organisations to redraw their plans.
They are now appealing for $193m (£124m) to provide support to the refugees in neighbouring states, more than twice the $84m they sought in March.
'Military element'
Earlier, Turkey began moving columns of military vehicles to the Syrian border, close to where the jet was brought down by the Syrian armed forces. The two pilots are still missing.
Syria said the Turkish F-4 Phantom plane was brought down in Syrian waters by anti-aircraft fire with a maximum range of 2.5km, but Ankara says it was hit in international waters by a heat-seeking or laser-guided missile.
Turkey's decision to reinforce its border with Syria comes two days after Prime Minister Recep Tayyip Erdogan announced a change in terms of its military engagement.
He told parliament that Syria was a "clear and present threat" and any "military element" that approached the Turkish border from Syria would be treated as a threat and a military target.
However, on Thursday, Gen Knud Bartels, chairman of Nato's military committee, stressed: "No military actions by Nato will be taken, neither in Syria or Iran, until all political means to achieve a political solution are used."
Diplomatic moves are continuing ahead of a key UN-backed meeting on Syria in Geneva on Saturday.
US Secretary of State Hillary Clinton has said there is hope of progress if all the participants fully back UN and Arab League special envoy Kofi Annan's peace plan and proposals for political transition.
However, Russian Foreign Minister Sergei Lavrov said on Thursday it had not agreed to Mr Annan's plan, which would call for President Assad to step down in favour of a national unity government.
"We are not supporting and will not support any external meddling," Mr Lavrov said. "External players must not dictate... to Syrians."
He also said leaving Iran out of the Geneva meeting was "a mistake".