Egypt activists set up website to monitor new president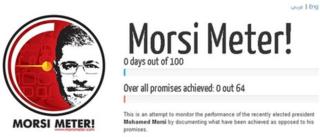 Some Egyptian online activists have created an initiative to track whether the new President-elect, Mohammed Mursi, fulfils his election promises.
Straight after Mursi's victory was announced on 24 June a website called " Mursi Meter " was launched by activists who said that they were not affiliated to any political trend.
The activists wrote on the website that their initiative was "an attempt to document and monitor" Mursi's first 100 days in office.
They wanted to check on the implementation of the Muslim Brotherhood's so-called "Renaissance Project", a package of reforms that Mr Mursi promised during the election campaign.
Mr Mursi's platform includes immediate solutions tackling security, traffic and fuel shortages, issues which he has pledged to solve during his first 100 days in office. The website refers to 64 promises that he has made.
Accountability
The Mursi Meter website appears to be well-organised, and features two meters - the first counts Mr Mursi's days in office, while the other counts the number of fulfilled promises.
Both meters currently say "0" because he has not yet taken office.
The website also lists the promises which Mursi has reportedly made, including 13 related to bread shortages, 21 related to traffic, 17 related to security, five related to fuel shortages, and eight related to cleanliness.
A Facebook page entitled "Mursi Meter" has also been created to allow users to interact with the meters' updates.
The page has already obtained over tens of thousands of "likes" and calls on users to "participate in monitoring the performance of the new president".
Prominent online activist Wael Ghonim picked up on the news of the website's creation, and told his 500,000 Twitter followers about it.
He also posted a link to on his Facebook page, " We Are All Khaled Said ", which played an important part in the build-up to the uprising that ousted former President Hosni Mubarak.
"Many thanks to the creators of the initiative. Please keep updating it," Mr Ghonim wrote.
The initiative was also hailed by numerous other social media users. Blogger Wessam el-Beih tweeted: "Mursi Meter is an excellent initiative to promote accountability."
Prominent political activist Lilian Wajdi meanwhile noted: "In order for the Mursi Meter to be effective, citizens and journalism must trace and document how his promises are realised on the ground."
BBC Monitoringselects and translates news from radio, television, press, news agencies and the internet from 150 countries in more than 70 languages. It is based in Caversham, UK, and has several bureaux abroad. For more reports from BBC Monitoring,click here