Egyptian officials sentenced over Israel gas deal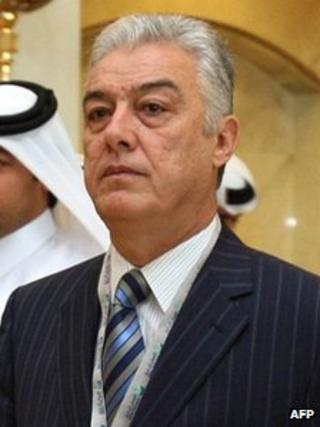 Egypt's former Oil Minister Samih Fahmi and a fugitive businessman, Hussein Salem, have been sentenced to 15 years in prison for their role in a gas export deal to Israel.
Ten other former high-ranking oil and gas officials also reportedly received shorter jail sentences.
The agreement, which supplied Israel with 40% of its natural gas at below market prices, was scrapped in April.
It was backed by the old government, but was widely unpopular in Egypt.
Since former President Hosni Mubarak was forced to step down in February 2011, the pipeline delivering gas from Egypt to Israel and Jordan has been bombed at least 14 times, reducing supplies significantly.
Public money
Mr Fahmi and Mr Salem were charged with undermining the interests of Egypt and "exporting gas to Israel at below market value".
Ten other petroleum ministry officials were sentenced to between three and 10 years in prison, officials told the Reuters news agency. The defendants were also fined a total of 2.4bn Egyptian pounds ($412m).
Mr Salem is now in Spain, but Madrid said in April that it would extradite him to Egypt to face trial. Salem was cleared on other corruption charges earlier this month, along with the former president.
Israeli officials insist the terms of the gas deal were fair, but Egyptian prosecutors said in April 2011 that the state had lost more than $714m.
Former Egyptian officials have said the gas was initially sold to East Mediterranean Gas Company (EMG) - which operates the cross-border pipeline and is co-owned by Mr Salem - at about $1.25 per British thermal unit (BTU), and then increased in 2008 to $4 per BTU. EMG was able to negotiate its own terms with Israeli buyers.
The government sells gas to Egyptian companies for about $4 per BTU, while comparable deals see Turkey, Greece and Italy paying $7 to $10.
Thursday's sentencing is the latest in a series of cases against Mubarak-era officials. The former president has been sentenced to life in prison for failing to prevent protesters' killings during the uprising.