Kuwait protest at court ruling dissolving parliament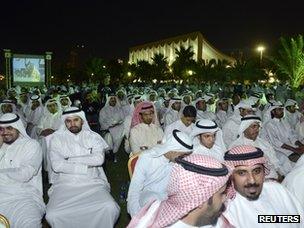 Thousands of Kuwaitis have protested against a court ruling that dissolved the opposition-dominated parliament.
Demonstrators in Kuwait City's Erada square chanted "we will not surrender", while a prominent opposition MP called for a constitutional monarchy.
Last week, the constitutional court declared February's National Assembly elections "illegal" and reinstated the previous pro-government parliament.
The emir ordered that parliament's dissolution amid corruption claims.
Sheikh Sabah al-Ahmed al-Sabah also ordered early elections at the time, saying "deteriorating conditions" had "threatened the country's higher interests".
His decrees came in the wake of the cabinet's decision in November to resign shortly before the former prime minister was to be asked about the alleged payment of bribes to pro-government MPs.
Kuwait's parliament has the most powers of any elected body in the Gulf, and opposition MPs openly criticise the ruling Sabah family. But the Sabahs retains full control over key government and executive posts.
In February's elections, the opposition made significant gains, winning 34 of the 50 seats in the National Assembly, with 23 of them going to Sunni Islamists. Liberals won nine seats, while women did not win any.
When they were not given more than half the seats in the 15-member cabinet, opposition MPs repeatedly summoned ministers for questioning, leading two ministers to resign rather than complying and possibly facing confidence motions. Two weeks ago, the emir suspended parliament for a month to avert a political crisis.
Pro-government MPs meanwhile demanded that the previous parliament be reinstated and allowed to finish its term. Last Wednesday, the constitutional court backed their assertion and ruled that it was replaced unconstitutionally.
The court found the emir had wrongly drawn up the decree for February's elections after the cabinet had resigned. A caretaker cabinet was appointed before the decree was issued, but the court ruled that was insufficient.
On Monday, the cabinet formed after the elections formally resigned as a procedural step aimed at complying with the court ruling, officials said.
At the protest in Erada square on Tuesday evening, an opposition member of the dissolved National Assembly, Obaid al-Wasmi, told the crowd that the royal family and its government had to accept "fundamental constitutional reforms that must lead to forming an elected government and a full parliamentary system".
He also said some reinstated MPs should be investigated for corruption.
"We have a government that doesn't listen, doesn't see and all it does is deceiving the people," he added.