Egyptian court suspends military arrest powers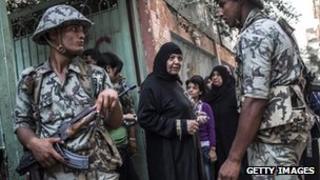 An Egyptian court has suspended a government decision allowing military police to arrest civilians, judicial sources say.
The administrative court took the decision after reviewing an appeal filed by rights groups against the controversial decree passed on 13 June.
The Cairo court has also delayed its rulings in two controversial cases, media reports say.
One concerns the dissolution of parliament, held off till 7 July.
The other involves the constitutionality of the new constituent assembly - a 100-member panel appointed by parliament to draft a new constitution - said to have been delayed till 1 September.
The ruling military council, the Supreme Council of Armed Forces (Scaf), has used court decrees and constitutional declarations to stop Islamists from controlling the country's executive and legislative branches following last year's parliamentary elections and the recent presidential elections.
The decree on military arrests caused an uproar among activists and politicians, sparking fears that an attempt was being made to reintroduce unpopular emergency laws.
"The decision creates extraordinary powers that have no basis in law," the groups had said in a statement, describing the order as "a blatant circumvention of the official end of the state of emergency".
"The decision could put in place far worse restrictions than those of the state of emergency," the statement said.
The army's right to arrest civilians had initially ended on 31 May when decades-old emergency laws were lifted.
The government can appeal against the court's decision, the Associated Press news agency reports.
Legal challenges
On 14 June, Egypt's supreme court called for the dissolution of the Islamist-dominated lower house of parliament and for fresh elections as it declared last year's parliamentary vote unconstitutional, citing the unconstitutionality of the electoral law.
One legal challenge has been mounted by lawmakers over that ruling.
On 18 June, Scaf issued an interim constitutional declaration granting itself sweeping powers, as the country awaited the results of the 16-17 June presidential election.
The declaration effectively gave the council legislative powers, control over the budget and over who writes the permanent constitution following mass street protests that toppled ousted President Hosni Mubarak, largely diminishing the powers of the country's newly elected president.
Opposition groups condemned the move as amounting to a military coup, and rights activists have mounted a legal challenge against it.
The military is scheduled to hand power to president-elect Mohammed Mursi on 30 June.