Hamas 'ready for truce' following fighting with Israel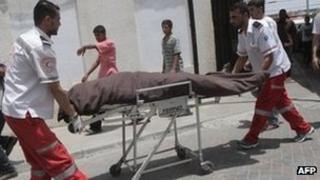 Hamas is ready to agree to an Egyptian-brokered truce with Israel, its military wing has said.
Hamas is committed to halt three days of fighting, "as long as the occupation [Israel] stops this aggression", the al-Qassam Brigades said in a statement.
Eight Palestinians have been killed in Israeli air strikes in Gaza since Monday. Several Israelis have been hurt in a hail of rocket fire from Gaza.
It is the worst flare-up of violence between the two sides for months.
In violence on Wednesday:
Two Palestinians, including a 14-year-old boy, were killed in an Israeli air strike on a farm in Zeitoun, east of Gaza City, medics said, and the boy's father was seriously wounded
A missile fired by an Israeli aircraft killed a militant - named by health officials as Ghalib Armilat - as he rode his motorbike in the southern town of Rafah. Another militant was injured in the strike
After darkness fell, Israel launched more air strikes on what it called Hamas security bases in Gaza, with medics saying two Palestinian boys were killed
An Israeli military spokeswoman said 58 rockets and mortars hit southern Israel, according to AFP news agency, causing eight people to be treated for shock.
Israel said the men targeted in Rafah were members of al-Tawhid wa al-Jihad, a Salafist group which it described as "a global jihad terror movement that is responsible for ongoing terror attacks against Israeli civilians and soldiers".
The military added that Armilat had been "involved in the planning and execution" of an attack on Monday in which militants crossed into southern Israel from Egypt's Sinai peninsula and ambushed two cars carrying Israeli construction workers, killing one.
'Minimal level'
In its statement on the Egyptian-brokered truce, the al-Qassam Brigades said it and "all resistance factions declare our commitment to stop this round of confrontation", as long as Israel did the same.
"Our confrontation with the enemy in this round was at the minimal level of fire and responses, this is a message that [Israeli] leaders should understand very well," it added.
It admitted it was responsible for launching 96 rockets and nine mortars at the Jewish state.
It is the first time Hamas has said it was directly involved in attacks against Israel for more than a year, although Israel believes Hamas allows smaller militant groups to carry out strikes, says the BBC's Jon Donnison in Ramallah.
Israel has neither confirmed nor denied the existence of a truce deal, reports said.
But in a statement it was quoted as saying it would "continue to operate with perseverance and determination against those who use terror against the state of Israel".