Yemen: Red Cross worker dies in air strike in Abyan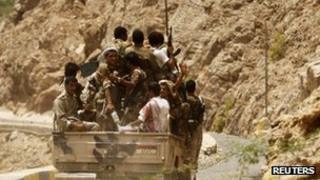 An air strike in Yemen has killed a man working for the international Red Cross, the organisation says.
Hussein Saleh, a 35-year-old Yemeni, was killed on Tuesday morning while undertaking humanitarian work in the north of Abyan province, it said.
Militants were also killed as Yemeni aircraft pounded targets in the region, but the number was unclear.
The US has been backing Yemeni forces in a battle to retake towns from the control of al-Qaeda-linked militants.
It deploys drones in the restive southern province of Abyan, where the army has recently recaptured several militant strongholds.
In a statement, the International Committee of the Red Cross (ICRC) said it was "deeply shocked and dismayed" by the death of Mr Saleh, who was expecting his fifth child with his wife.
It said he was working as the adviser to the ICRC's head of office in Aden.
An ICRC representative in the capital, Sanaa, told the BBC that Mr Saleh had been working in a team of four when he was wounded in the strike, and later died of his injuries.
Dibeh Fakhr confirmed he was hit by an air strike, but could not say whether it had come from Yemeni forces or a drone attack, saying details were not yet clear.
Meanwhile, reports of the number of militants killed in Yemeni air strikes on Wednesday ranged between five and 30.
In a text message, the defence ministry told Reuters news agency that five had died - including senior military leaders of Ansar al-Sharia, linked to al-Qaeda in the Arabian Peninsula (AQAP).
But a local official told AFP there were "30 deaths in the al-Qaeda ranks".
Yemen's military recently launched a campaign to retake of a string of towns and villages after a year of jihadist control.
Many militants are believed to have retreated to safe havens in the mountains where they enjoy tribal protection.