Iran nuclear stand-off: Travelling circus of talks continues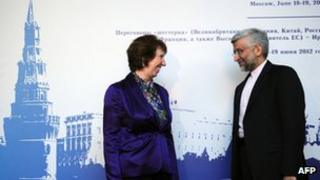 "It's a different shaped table," noted Baroness Catherine Ashton, the world powers' lead negotiator as she sat down opposite her Iranian counterpart Saeed Jalili.
Even this was a problem.
Iran's conservative Fars news agency reported that the rectangular negotiating table was more likely to produce tension than the round tables used in previous sets of talks.
In principle, the six world powers and Iran met in Moscow to try to resolve the conflict over the Islamic Republic's nuclear programme. In practice, every little detail proved to be an obstacle.
On the opening day, the world powers repeated the three specific demands that they made of Iran at the last round of talks held a month ago: stop the enrichment of uranium to 20%; close a heavily-fortified enrichment facility near the city of Qom; and export its stockpile of 20% enriched uranium.
"Stop, shut, and ship," one Western diplomat explained.
These three steps would make it practically impossible for Iran to go ahead and make actual nuclear weapons.
Iran has, of course, repeatedly stated that it has no intention of building such weapons. But the West demands steps - not words.
'Period of reflection'
In response to the world powers' demands, Iran delivered a presentation with slides in which it repeated its own five-point plan also announced last month.
These points include a recognition of Iran's right to enrich uranium, a lifting of sanctions and a discussion of regional issues including Syria.
There appeared to be little immediate overlap between the offers or demands made by both sides. Neither Iran nor the main player among the world powers - the USA - appeared to be willing to give much ground.
Barack Obama's administration has come under pressure from the Senate not to lift sanctions. As the US presidential election approaches, the White House may feel the benefits of offering concessions to Iran to be limited.
In turn, Iran's parliament called on Mr Jalili to stick to his positions.
Mr Jalili is seen as a possible candidate in next year's presidential election. The tougher he came across in Moscow, the better he looked to conservatives in Tehran.
Unsurprisingly, the two days of talks failed to produce a breakthrough.
"We set out our respective positions in what were detailed, tough and frank exchanges," said Lady Ashton in a statement given after the end of the talks.
"However, it remains clear that there are significant gaps between the substance of the two positions.
"The choice is Iran's," she warned.
With that, the travelling circus of nuclear talks - which has seen negotiations in Istanbul, Baghdad and Moscow in the last two months - has been grounded.
The world powers have decided not to commit to another high-level set of talks.
Instead they have agreed to take part in a lower-level technical meeting with Iran in Istanbul on 3 July. After this meeting, the world powers will decide whether or not to resume the high-level talks.
"It's not collapse it's not suspension," commented one Western diplomat. "It's a period of reflection."
Enormous task
For its part, Iran appeared to welcome the announcement of the low-level experts' meeting.
"We said after the last round of talks in Baghdad that expert-level meetings needed to be held," Mr Jalili told reporters in Moscow.
He also re-emphasised the one point that he has made in every round of talks - and in almost every sentence as well.
"Enrichment of uranium is the inalienable right of the Iranian people," he said.
It's not yet clear which experts will travel to Istanbul for the 3 July meeting.
But the task that they face is enormous. At present, it's difficult to see how lower-level officials will be able to overcome the problems which have so far defeated their superiors who have greater political leverage.
Put simply: Iran and the six world powers came to Moscow and failed to find common ground. Diplomats leave this city with no guarantee that they will meet again.
No-one expects any great breakthroughs. For the moment, they can't even get the table right.