Saudi Arabia: Crown Prince's death raises succession questions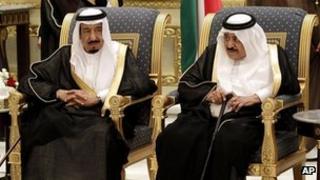 The death of the Saudi Interior Minister and Crown Prince, Nayef bin Abdul Aziz al-Saud, the second heir apparent to die in post in the last nine months, has only compounded speculation in the kingdom - already rife - about the ageing leadership and about when the succession will switch to a younger generation of princes.
An ageing and ailing King Abdullah has nominated his half-brother Prince Salman, the defence minister, as heir apparent - a decision that the Allegiance Commission (Hiya al-Baya) is expected to rubber stamp in the next few days. However the issue of who might follow a King Salman is an open question.
At around 76, Prince Salman is only a couple of years younger than Prince Nayef was. However, Salman is seemingly in good health, and his right and ability to accede as king is not in doubt.
Salman has, like his full-brother and predecessor as crown prince, Sultan, who died last October, remained in the post of defence minister, as well as becoming crown prince.
This should help to offset immediate pressure to determine who would follow Salman as crown prince, as a new defence minister would be seen as a candidate.
Next in line
Previously deputy interior minister, Prince Ahmed, a full-brother of Nayef and Salman (a "Sudairi", or son of their father's favoured wife), has taken over from Nayef as interior minister.
This would position Prince Ahmed to accede as king after Salman, although in the past he has not shown much appetite to be monarch.
Nayef's two most prominent sons will obviously be disadvantaged by the death of their father. The story might have been very different had Nayef, as had been assumed, lived long enough to become king.
Saud bin Nayef has been running his father's court - a job that he could retain for a while under his full- uncle, Salman, while Mohammed bin Nayef, the assistant interior minister, was evidently too young to jump ahead of his full-uncle, Prince Ahmed.
Much speculation now focuses on who King Salman would nominate to the Allegiance Council for approval as his heir apparent.
King Abdullah could pre-empt this by appointing a second deputy prime minister. For more than half a century, the mostly ceremonial title has indicated who is next in line to the throne after the crown prince.
However, it took the king four years to appoint Nayef to the title, and Salman was not made second deputy PM in November 2011, when Abdullah nominated him to be heir apparent in place of Sultan.
King Abdullah is unlikely to choose one of his own sons as second in line, even though the power of the Sudairi bloc to resist it has been weakened by the deaths of Sultan and Nayef.
As king, Salman might choose to nominate Ahmed as crown prince, or Salman might seek to do a deal with the more powerful senior princes represented on the Allegiance Council, in order to ensure their agreement to one of his own sons becoming crown prince.
However, there would still be a few sons of the Saudi state's founder, King Abdulaziz, available and plausible as monarch, and one or two of them might not be that old and frail by the time Salman dies.
Muqrin, the youngest, heads foreign intelligence. While presently healthy, he is estimated to be approaching 70.
Generational switch?
Perhaps the embarrassment of constant speculation about one elderly brother succeeding another will shortly prompt an agreement between Abdullah and Salman to go for a generational switch, and to signal it by agreeing who should be second deputy PM.
However, the credibility of a move intended to introduce vitality into decision-making could be undermined by the fact that the most plausible of the next generation, Khalid al-Faisal, governor of Mecca, is in his early 70s.
One or two of those tipped as the "next generation" of princes, who are in their 60s, are controversial within the House of Saud. While those young enough not to be obviously too old by the time they accede are probably too young to be chosen now.
Agreeing on how to resolve this will not be easy.
Neil Partrick is a visiting fellow at the Gulf Programme at the London School of Economics and associate fellow at the Royal United Services Institute for Defence and Security Studies (RUSI) in London.