Saudi Arabia buries Crown Prince Nayef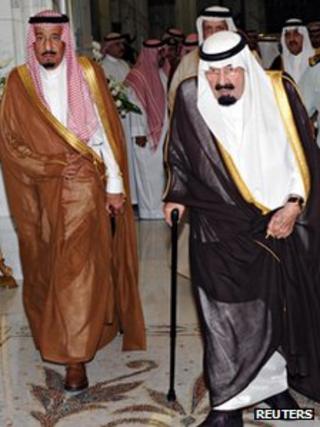 Saudi Arabia has buried Crown Prince Nayef bin Abdul Aziz al-Saud, who died in Geneva on Saturday.
Prince Nayef, who was also deputy prime minister and interior minister, was buried after sunset prayers in the holy city of Mecca.
International leaders and members of the Saudi royal family have paid tribute to Prince Nayef, who only became crown prince last year.
His 76-year-old brother Prince Salman may succeed him as crown prince.
The succession in Saudi Arabia still passes among the sons of former King Abdul Aziz ibn Saud, who established the modern kingdom during his reign from 1932 to 1953. So far, five brothers have become kings and about 20 are still alive.
Prince Nayef's body was flown back into the port city of Jeddah on Sunday from Geneva, where he had died while receiving medical treatment.
Succession concerns
International leaders paid tribute to the prince over the weekend, with UK Prime Minister David Cameron praising the prince's "dedication" and US President Barack Obama focusing on his role in fighting terrorism.
The kingdom's interior minister since 1975, he led the crackdown on al-Qaeda's offshoot in the country after 11 September 2001.
The transition to a new interior minister and crown prince - the next-in-line to 88-year-old King Abdullah's throne - is expected to be smooth.
But the death of two elderly heirs in quick succession has raised questions about the succession process in Saudi Arabia, with the older generation of leaders now all in their 70s and 80s.
The prince was a member of the influential group known in Saudi Arabia as the "Sudairi Seven", which was made up of the sons born to King Abdul Aziz and his favourite wife, Hassa bint Ahmed al-Sudairi.
Prince Salman, the expected successor to Prince Nayef as crown prince, is current defence minister and has been governor of the capital Riyadh for many decades.
He is thought to be more liberal-minded than his brother, who was seen as more conservative than King Abdullah and personally committed to maintaining strict religious traditions.
The death of Prince Nayef comes at a testing time for Saudi Arabia.
Although the kingdom remains calmer than many of its neighbours, youth unemployment, demands for women's rights and the impact of the uprisings happening across the Arab world present new challenges to the ruling monarchy.