Thirteen dead in Turkish prison fire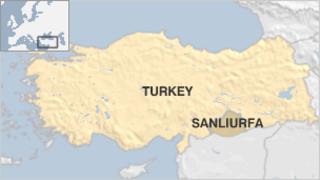 Thirteen prisoners have died and five others have been taken to hospital after a fire broke out in a prison in southeast Turkey, officials said.
The victims suffocated after inmates set bedding alight at the jail in Sanliurfa province.
The fire was brought under control before it spread to the rest of the jail, which houses about 1,000 inmates.
Turkish media said the blaze took place during a mutiny, but the local governor denied the claim.
Governor Celalettin Guvenc told Reuters that the blaze took place following a row between the inmates.
It took one-and-a-half hours before the blaze was extinguised, the news agency reports.
Those detained at Sanliurfa include political prisoners, reports say.
Ibrahim Ayhan, a member of parliament from the pro-Kurdish Peace and Democracy Party (BDP), was among those in the jail but was not believed to have been harmed, broadcaster NTV said.