Ahmadinejad critic Larijani re-elected Iran speaker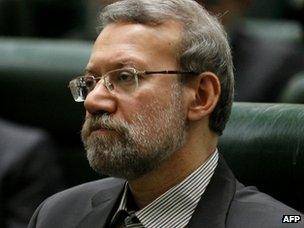 Iran's parliament has re-elected a conservative critic of President Mahmoud Ahmadinejad as speaker.
Ali Larijani will serve for another year after beating Gholam Ali Haddad Adel by 177 votes to 89 in the Majlis.
Both are close to the Supreme Leader, Ayatollah Ali Khamenei, but Mr Haddad Adel wanted a less confrontational approach with the president.
Conservative opponents of Mr Ahmadinejad won a majority in the recent parliamentary elections.
Iran's parliament lacks executive power but plays a part in choosing next year's presidential contenders. Term limits mean that Mr Ahmadinejad must step down in 2013.
Mr Ahmadinejad's influence has been waning since he fell out of favour with the supreme leader last year.
In March, he became the first president since the 1979 Islamic Revolution to be summoned by parliament to answer questions.
Mr Ahmadinejad was asked to explain his justification for his 11-day absence from government meetings in April 2011 after the supreme leader reinstated the intelligence minister, who had just been sacked by the president.