Deadly car bomb attack rocks Baghdad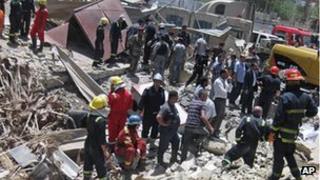 About two dozen people have been killed and scores injured in a suspected al-Qaeda bomb attack in Iraq's capital, Baghdad, officials say.
A suicide bomber reportedly detonated an explosives-packed car outside the offices of the Shia Waqf (Endowment), which looks after Shia religious sites.
More than 60 people were injured by the blast in the Bab al-Muadham area.
Violence has fallen in Iraq in recent years, but militants still frequently attack security forces and civilians.
The latest attack comes less than a week after a series of bombings killed 17 people in Baghdad.
Security officials say it appears to have been carried out by al-Qaeda's Iraqi wing, a Sunni organisation.
They say the explosives-rigged car was parked in a car park near the Shia Waqf building.
The front of the three-storey office reportedly collapsed from the impact of the blast, which also shattered windows in surrounding buildings and damaged cars in the area.
Appeal for calm
An employee at the nearby health department also felt the impact of the blast.
"The ceiling fell on my head and I was slightly wounded in the head and fell down," Adel Ahmed told the Associated Press news agency.
He described the scene of the explosion as "horrific", with wounded people on the ground screaming for help.
Security forces cordoned off the scene and barred anyone from approaching the area, while firefighters continued to search the debris for survivors.
The deputy chief of the Shia Wafq, Sami al-Massudi, has appealed for calm.
"We call on the Iraqi people and especially on the sons of our religion to bury the strife because there is a plan to launch a civil war between the people, and between the Iraqi sects," he said.
Mr Massudi said the Shia Wafq had received threats in recent days as a result of a dispute over the al-Askari shrine.
Located in the Sunni-dominated city of Samarra, north of Baghdad, the gold-domed mosque is one of the most revered sites in Shia Islam.
It was hit by a series of extremist attacks between 2006 and 2007, which led the country to the brink of civil war.
More recently, Shia targets have come under renewed attack since the government of Shia Prime Minister Nouri Maliki moved against senior members of the predominantly Sunni Iraqiya political bloc.