Fresh Iran nuclear talks to be held this week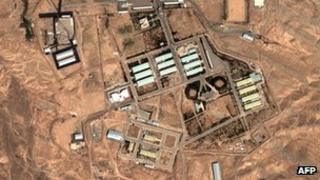 Iran has agreed to meet officials from the International Atomic Energy Agency (IAEA) in Vienna on Friday for further talks about its nuclear activities.
IAEA chief Yukiya Amano said he would urge Iran to allow early access to its Parchin facility near Tehran.
The IAEA, the UN's nuclear watchdog, wants to visit Parchin because of suspicions that it was used for experiments related to nuclear weapons.
Iran denies its nuclear programme has a military aspect.
More talks between Iran and six powers - Britain, the US, China, Russia, France and Germany - are due to be held in Moscow next month.
The powers are seeking an agreement by Iran to curb uranium enrichment and allow UN inspectors to verify its nuclear activity is peaceful.
Last November, an IAEA report claimed Iran had "carried out activities relevant to the development of a nuclear device".
The IAEA, which is based in the Austrian capital, says that since November it has obtained more information relating to possible high-explosive tests there, which could be relevant to nuclear warheads.