Sinai kidnapping: Two US tourists freed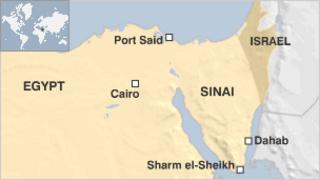 Two American tourists have been freed unharmed after they were kidnapped in the Sinai Peninsula in Egypt, say security officials.
They were seized early on Thursday near the resort of Dahab.
Officials blamed Bedouin tribesmen who were seeking the release of a fellow Bedouin jailed for drugs possession.
The Sinai has become increasingly lawless since the fall of Hosni Mubarak's regime last year, BBC Cairo correspondent Jon Leyne says.
A number of tourists and other foreigners have been kidnapped in that time. They are usually released fairly quickly.
Until now the coastal strip, which is where the main resorts are, was thought to be safe. So this is bound to be a new blow to Egypt's already faltering tourist industry, our correspondent says.
The two Americans were released after hours of negotiations involving Bedouins and representatives from the local police and government, according to officials.