'Militants killed' in south Yemen military strikes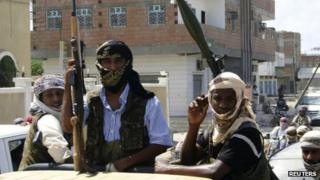 At least 10 militants have been killed by air and artillery strikes in southern Yemen, officials say.
The defence ministry said three militants died in an air raid that targeted a militant communications centre near Shaqra, in Abyan province.
Army shellfire killed another seven militants in Jaar, a town under the control of an al-Qaeda-linked group for more than a year, it added.
On Tuesday, three soldiers were killed in an attack on a convoy in Abyan.
More than 350 people, including 250 militants and 50 soldiers, are believed to have died since the military launched an offensive in Abyan earlier this month to retake several towns controlled by Ansar al-Sharia.
The group was founded by al-Qaeda in the Arabian Peninsula (AQAP) in response to the growing youth movement in Yemen, which has marginalised Salafi-jihadists who advocate the violent overthrow of the government.
In November, protesters forced President Ali Abdullah Saleh to hand over power to his deputy, Abdrabbuh Mansour Hadi, as part of a deal brokered by the Gulf Co-operation Council (GCC) and the United States.
Mr Hadi was elected president in February and immediately said one of his most important tasks was the "continuation of war against al-Qaeda".
On Tuesday, military officials said troops had captured rebel-held positions within two to three kilometres of Jaar, and that they were advancing cautiously.
A resident who had fled Jaar told the Associated Press that it was now a "ghost town without electricity, water and telephones, and not even one shop is open".
Militants had set up anti-aircraft guns, barricaded main roads, dug trenches, and pulled their heavy weapons into the town centre, he said.
The army also says it has retaken most of the provincial capital, Zinjibar.