Iraq's PM warns Arab states may face 'water war'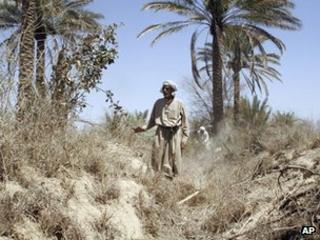 Arab states could be headed towards a future war over water if they do not act quickly to tackle shortages, Iraqi Prime Minister Nouri Maliki has warned.
At a conference in Baghdad, he urged countries to work together in order to prevent conflict in the arid region.
Issues include desertification, poor water management, and the need for most Arab countries to rely on the goodwill of upstream states for river water.
Arab countries are seeking to address the water crisis with a unified plan.
The BBC's Rami Ruhayem in Baghdad says Arab leaders have in the past failed to tackle common crises because of infighting and inefficiency.
And with popular uprisings tearing through the region, their differences seem to be getting even worse, our correspondent adds.
At the conference, the head of the Palestinian Water Authority accused Yemen of wasting a substantial amount of its water on irrigating qat plants, whose leaves are a popular stimulant.
Last year, a report funded by the Swiss and Swedish governments said Iraq's marshlands had reduced in size by 50 to 90% from 1960 to 2000.
In March, a report by the US Director of National Intelligence said a global water war would be unlikely in the next 10 years, but warned that the risk of conflict would increase because demand for water would outstrip current supplies by 40% by 2030.
Past water disputes have contributed to tensions between rivals including Israel and the Palestinians, and Syria and Iraq.