Leading Bahrain activist Zainab al-Khawaja released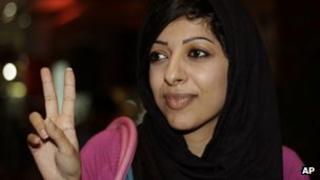 A pro-democracy activist in Bahrain who was arrested last month after staging a lone protest on a main road has been released from jail after paying a fine.
Zainab al-Khawaja was sentenced last week to one month in prison for taking part in an illegal gathering but was freed because of time served on remand.
She was detained after demanding the end of the crackdown on dissent and the release of her father, Abdulhadi.
The leading activist ended his hunger strike on Monday after 110 days.
His wife, Khadija al-Mousawi, told the BBC that his decision was in part taken because he was being force-fed by two doctors treating him.
Mr Khawaja also faced pressure from friends and colleagues to cease the fast and felt the strike had achieved its goal of drawing the world's attention to the opposition protests in Bahrain, Mrs Mousawi added.
Appeal
Mr Khawaja and 20 other activists and opposition figures are currently appealing against their convictions for allegedly plotting to overthrow the state by a military tribunal last June. Seven of them were tried in absentia.
In April, Bahrain's highest court, the Court of Cassation, threw out the rejection of their appeal against their convictions by the Military Court of Appeal, and ruled that their case should instead be heard by the civilian Criminal Court of Appeal.
Zainab al-Khawaja was arrested on 21 April while sitting in the middle of a main road leading to the Bahrain International Circuit, a day before the Formula 1 Grand Prix, demanding the cancellation of the race, the release of her father and his fellow defendants, and the end of the repression of peaceful protests.
Last week, Ms Khawaja was sentenced to one month in jail for taking part in an illegal assembly and was fined separately 200 dinars ($530) for insulting a government employee.
On Tuesday, her lawyer Mohammed al-Jishi said the fine had been paid and that she had been released because she had already spent a month in detention.
The previous day, the authorities released on bail the prominent human rights activist, Nabeel Rajab, who is charged with "inciting illegal rallies" by using social networking websites and posting "defamatory and humiliating" depictions of security forces.