Egypt Islamist candidate Mursi promises broad coalition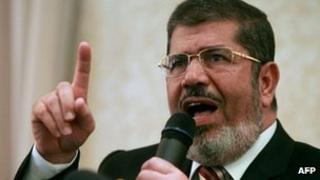 The Muslim Brotherhood's candidate for president in Egypt, Mohammed Mursi, has said he would include a wide range of political forces in any government.
Mr Mursi also promised at a news conference to provide representation to women and children, and said the era of a "Superman" as president was over.
The Freedom and Justice Party head said the presidency would no longer be about one person; it would be an institution.
Mr Mursi spoke after an attack on the offices of his rival, Ahmed Shafiq.
Protesters set fire to storage rooms and smashed computers inside the Giza headquarters of the former air force chief, who served briefly as prime minister during and after the uprising that forced Hosni Mubarak to step down as president.
Graffiti daubed on a wall said: "No to Shafiq; no to feloul," an Arabic word used to refer to "remnants" of the Mubarak era.
Four people were later arrested on suspicion of arson. Two were members of the centrist Justice Party and a third was a member of the liberal Democratic Front Party, state media reported.
Thousands had earlier taken to the streets of Cairo after the Higher Presidential Election Committee (HPEC) published the results of last week's first round, which saw Mr Mursi win 24.3% of the vote and Mr Shafiq get 23.3%.
The HPEC said it had rejected several appeals by unsuccessful candidates, who alleged that there had been irregularities in the vote. It said there were some errors, but that they had not affected the result.
The moderate Islamist, Abdul Moneim Aboul Fotouh, who had been a favourite but came fourth with 18%, said the first round was a sham, with votes being bought.
Christian 'partners'
With an extremely divisive run-off vote in prospect, Mr Mursi made a new pitch for the centre ground on Tuesday, the BBC's Jon Leyne in Cairo says.
He tried to reassure the youth groups which led the uprising against Mr Mubarak that he wanted to establish a "democratic, civil, and modern state" which guaranteed the freedom of religion and right to peaceful protest.
"There will not be emergency law, and there will be no arrests," he said. "Youths are free, but they should bear part of the responsibility."
Mr Mursi also promised to form a "broad coalition" government, and said he would not necessarily choose a prime minister who was also a member of the Muslim Brotherhood or its Freedom and Justice Party, which has the most seats in parliament.
"I stress to all people that the presidency... will never be individual," he said. "Rather, the presidency will be an institution."
"The Superman era is over," he added.
The 60-year-old added that he would appoint Coptic Christians as presidential advisers and even one as vice-president "if possible".
"Our Christian brothers, they are partners in the nation. They will have full rights that are equal to those enjoyed by Muslims."
There would also not be an enforced Islamic dress code, he insisted.
"Women have a right to freely choose the attire that suits them."
Mr Mursi also promised that the new constitution would be written by a panel that truly represented the diversity of Egyptian society. The current 100-member drafting assembly was suspended following complaints that women, young people and minorities were under-represented.