Lebanese Shia pilgrims abducted in Syria released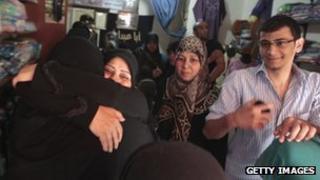 Lebanon's prime minister has confirmed that Lebanese Shia pilgrims abducted in Syria on Tuesday have been released.
Najib Mikati said the 11 men were unharmed and on their way to Lebanon.
Earlier reports suggested the pilgrims had been kidnapped on their way back from Iran by insurgents hoping to use them for a prisoner swap.
The rebel Free Syrian Army has denied it was responsible. The abduction sparked violent protests across Lebanon.
Lebanon's ex-Prime Minister Saad al-Hariri was involved with other Lebanese and Turkish leaders in negotiating the hostages' freedom.
His office said he had called the Lebanese parliament speaker to give him the news about their release. Al-Hariri also provided a private plane to fly the freed pilgrims to Beirut.
Bus 'intercepted'
The pilgrims had been held by "a splinter group of the armed Syrian opposition", according to a statement by Foreign Minister Adnan Mansour on Wednesday.
The pilgrims were travelling back through Syria after a tour of Iran's holy sites when they were kidnapped on Tuesday. First reports suggested 13 men had been abducted.
When the bus was intercepted after crossing into Syria, the women on board were allowed to go free.
A relative of one of the hostages told Reuters that the Free Syrian Army (FSA) had taken the pilgrims and were demanding the release of its own members being held in Aleppo.
But a senior officer in the FSA has condemned the kidnapping and suggested that the Syrian government was probably behind it.
"The FSA is not at all responsible for the operation... we condemn this abduction, which does not represent the values of the (Syrian) revolution," Mustafa al-Sheikh said on Wednesday.
Appeal for calm
The abduction sparked protests in Lebanon, which is deeply divided over the situation in Syria.
Sheikh Hassan Nasrallah, head of the Lebanese Shia militant group Hezbollah, appealed for calm on Tuesday after tyres were burned and roads blocked in Beirut.
In a separate development on Wednesday, an Iranian diplomat in Damascus said three Iranian lorry drivers had been abducted in Syria.
The diplomat said the drivers were attacked and taken away after they entered the country via Turkey, carrying cargo, earlier this week.
Syrian rebels have often accused Iran of aiding President Bashar al-Assad's crackdown of their protests.