Egypt political satire El-Bernameg entertains millions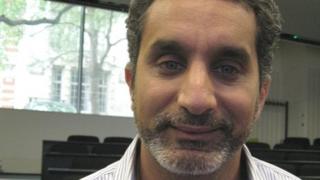 Egypt's first satirical TV show started as an amateur video broadcast from the Cairo flat of a surgeon in the aftermath of the Tahrir Square clashes.
"For the first time in Egypt, we don't know who the next president is," says Dr Bassem Youssef.
Egyptians have voted in their country's first ever free presidential elections, with candidates from all walks of life taking part. A second round will be held in June if there is no clear winner in the first.
The heart surgeon treated some of the protesters who were wounded in Tahrir Square earlier last year during their 18-day popular uprising to end President Hosni Mubarak's three-decade rule.
He says if anyone told him 15 months ago he would have his own TV show, he would have never believed them. He was about to embark on a new course to further his studies.
But after watching TV reports of protesters clashing with security forces and seeing how state media were not reporting events truthfully during the revolution, Dr Youssef was inspired to start his own show.
Witty lampooning
It all began in a spare room in his flat with homemade videos, and a $100 (£64) collage of Tahrir Square on the wall behind him. Dr Youssef expected to get a couple of thousand hits on YouTube.
But his witty lampooning of public figures attracted three million views for the first episode alone in just a few days, and 75 million hits by the end of the first season.
A year later, the first season of his show El-Bernameg (The Programme) aired three times a week on one of Egypt's independent satellite stations, making Dr Youssef a household name. He is now working on the second season.
Dr Youssef, whose first baby has just arrived, is using his new-found fame to raise money wherever he goes for a cardiothoracic unit in Beni Suef, in southern Egypt, and also to support aspiring surgeons.
"We owe a lot to the Egyptian revolution and the people who made the ultimate sacrifice to make this happen," says the heart surgeon.
El-Bernameg is the first political satire show of its kind in Egypt. Dr Youssef says people wanted to see a different kind of media.
"We were trying to be innovative. We tried to be smart and funny and at the same time we have a message," he explains.
"It was classy. So everybody could watch it. It was witty, so everyone could relate to it."
No editorial control
There have been attempts at political satire TV shows in the Arab world, notably in Kuwait, but they had to tread very carefully not to upset powerful figures or stifling censorship.
"Basically, if my mum can't watch it I won't do it," says the man inspired by Jon Stewart and his Daily Show in the United States. "So too obscene, too sexual or socially shocking are out of bounds," he adds. And as for politics? "If something is too extreme, you try to dance around it," says the 38-year-old.
He stresses that he would not make fun of religion and that he only criticises people who use religion to drive a certain agenda.
The channel bosses and business owner have no editorial control on El-Bernameg as they see the programme only half an hour before it goes on air.
The Arab Spring has brought Islamists to power in Tunisia and Morocco after being ostracised for decades. In Egypt, they control the parliament and there are Islamists among the presidential candidates.
Many, especially in the West, are worried by the spread of political Islam. But Dr Youssef says it does not scare him. "If we're calling for democracy, then we have to accept the results of free and fair elections."
People cannot thrive on religious slogans forever and elected politicians - Islamists or not - have to deliver or be voted out the next time.
But he says: "Whatever happens, we cannot let anyone take our voice away again."
While the political situation in Egypt remains fluid, Dr Youssef is completely against entering politics because he would rather be in the media poking fun at the politicians. He is planning to continue with his show to get people more involved, ironically, in politics.
"Suddenly, we do not know what is going to happen tomorrow,' he adds. His immediate future, however, includes a visit to his idol Jon Stewart in New York next month.