Candidates spar on final day of Egypt presidential poll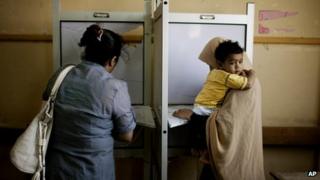 Tensions rose between some of the main candidates in Egypt's presidential elections on the second and final day of voting.
Amr Moussa and Ahmed Shafiq traded accusations, saying false rumours were being spread that each was about to withdraw from the hotly contested race.
Other candidates have also been accused of breaking "election silence" rules.
Counting has begun at some polling stations following Egypt's first free presidential polls.
The elections pit Islamists against secularists, and revolutionaries against Mubarak-era ministers.
In all, 13 candidates are running. The front-runners are:
Ahmed Shafiq, a former commander of the air force and briefly prime minister during February 2011 protests
Amr Moussa, who has served as foreign minister and head of the Arab League
Mohammed Mursi, who heads Muslim Brotherhood's Freedom and Justice Party
Abdul Moneim Aboul Fotouh, an independent Islamist candidate
Hosni Mubarak - whose 30-year rule was overthrown last February and who is on trial for ordering the killing of protesters - is said to be watching proceedings from hospital.
A run-off vote is scheduled for 16 and 17 June if no candidate manages to get more than 50% of the votes in the poll, in which 50 million people are eligible to vote.
'Old regime'
Counting began as soon as polls closed, and some individual polling stations may announce early results.
But no clear picture is likely to emerge until Tuesday, when they are announced in full.
A row erupted between two of the main candidates for apparently spreading damaging rumours about each other.
In a BBC interview, Mr Moussa launched an angry attack on his rival Mr Shafiq - who was appointed prime minister in the dying days of Mr Mubarak's rule - saying he represented the ideas of the old regime.
Mr Moussa denied what he described as "sinister rumours" that he was about to withdraw from the race.
But in later interviews Mr Shafiq hit back, accusing Mr Moussa's campaigns of spreading similar rumours - and pointing out Mr Moussa's connections to the old regime. Mr Moussa served as a minister under Mubarak from 1991 to 2001.
Mr Shafiq, Mr Fotouh and Mr Mursi have all been accused of breaking rules requiring candidates keep silent on polling days and on Wednesday the election commission said it would be investigating such allegations.
'Impressive'
Turnout appeared to vary across the country on Thursday, which authorities had declared a public holiday.
In Cairo, there were long queues at some polling stations but elsewhere, such as Alexandria and Suez, there were reports of slow voting.
Egypt's election commission estimated that about 50% of eligible voters had participated, reported official news agency Mena.
NGOs and rights groups monitoring the election have reported some complaints, including illegally campaigning outside polling stations.
But election observers said in general the vote appeared to have passed off successfully.
"We still have to see whether all the procedures were fair," said former US congresswoman Jane Harman, an international observer.
"But as one observer of other elections like Tunisia, I must say that this process for he last five days since I have been in Egypt was enormously impressive and a tribute to the people of Egypt."
Friction
The military body that assumed presidential power in February 2011 - the Supreme Council of the Armed Forces (Scaf) - has promised a fair vote and civilian rule.
Until a new constitution is approved it is unclear what powers the president will have, prompting fears of friction with a military which seems determined to retain its powerful position.
Meanwhile some young people in Cairo told the BBC they were hopeful that the vote would improve their lives.
"Has the revolution accomplished all of its goals? No," said Dina Kassem.
"You know we still have so much to go like any other country. The French revolution took how many years? But you can see the fact of it today. And that's what we're hoping to bring to Egypt."
Another young voter, Assia, Krim, was less hopeful.
"Elections under a military regime are not elections. Elections under tanks, I'm sorry - they are not elections," she said.
The ruling military council, worried about potential post-election unrest, has sought to reassure Egyptians that it will be the voters themselves who decide who will be the next president.
The Arab Spring began last year in Tunisia, inspiring pro-democracy activists across the Arab world.
The period since Mr Mubarak was forced from power have been turbulent, with continued violent protests and a deteriorating economy.