Bomb attack in Iraq kills three Lebanese Shia pilgrims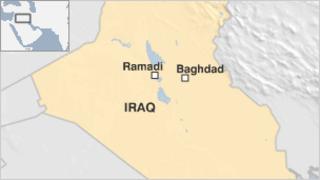 At least three Lebanese Shia pilgrims in Iraq have been killed and seven wounded by a roadside bomb in the central city of Ramadi, officials say.
More than 40 people, including women and children, were travelling in a bus when it was hit by the blast.
Ramadi is the capital of Anbar province, a former al-Qaeda stronghold.
Sectarian violence in Iraq has receded since its peak in 2006 to 2007. But al-Qaeda-linked Sunni militants continue to target security forces and Shia.
Each year thousands of Shia Muslims from neighbouring Iran and nearby Lebanon, flock to Iraq to visit some of the sect's holiest shrines.
The Ramadi attack also comes days after a bus carrying Lebanese Shia pilgrims was seized in Syria as it was making its way back to Lebanon from Iran.
Thirteen pilgrims on board were abducted in that incident, which Lebanon's state news agency has blamed on Syrian rebels.