Egypt viewpoint: We are sorry, Mr President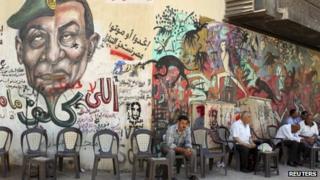 As Egyptians head to the polls to vote for a new president, the BBC News website asked Egyptians of contrasting political persuasions to write about their hopes and fears for the country's future. Karim Hussein is the founder of the Facebook group We are sorry, Mr President, which supports the ousted leader, Hosni Mubarak.
The democratic future of Egypt is under threat from the Islamist majority. The minorities from other religions and sects are being blotted out by their dictatorship. I fear their control.
Another reason to be pessimistic about the coming period is that Islamist groups want to normalise relations with Iran, which seeks to extend its control over the Middle East by offering funds.
We reject such a policy as this could take us backwards by more than 50 years. It would gradually lead to a new revolution against the Islamists.
I hope Egypt will achieve "real" democracy by avoiding discrimination against its citizens either on the basis of their faith or political views.
We need a civilian leader with a military background like Lt Gen Ahmed Shafiq, who could run the country without bias towards one party or another. He could boost ties with European and Arab countries, impose order and square up to whoever threatened the country's overriding interests - internally or externally.
From my point of view, whoever takes power during the coming phase will shoulder a big responsibility and have to deal with extremely serious issues. The coming president will have to offer solutions to bankruptcy and the collapse of the economy by attracting new foreign investors.
He will also need to deal with the lax security that we have been suffering from since 28 January 2011. Cases of robbery, killing, rape and intimidation have meant that Egyptians no longer feel safe in their own homes.
As a priority, dignity, prestige and respect must be restored to the police force. It is still suffering injustices and false accusations from the media as if it was made up of murderers and not Egyptians.
The police must be allowed to fulfil their duties without being insulted or put at risk. We have experienced the worst incidents of revenge against some officers who have been killed by "baltagya" or thugs. Unfair laws have also been issued to settle accounts with the police force and army.
Our Facebook page We are sorry, Mr President has been active for more than a year and half. We defend [former] President Mubarak by posting videos and other evidence that prove his innocence of the charges levelled against him. We also defend the military forces at this critical time.
As supporters of President Mubarak, we are being treated in the worst way, as though we are not Egyptians. This is only because we disagree with others in our understanding of events and because we respect the history of a man who fought for the soil of Egypt and spared this country the woes of war for 30 years.
My concerns for the future also extend to the verdict soon to be announced in the trial of President Mubarak. Although I have confidence in the fairness of the Egyptian judiciary, I am concerned about the pressure being exerted by the Tahrir Square protesters and Islamist forces and the risk of instability.
However, we have faith in God that history will treat President Mubarak with justice.