South Yemen air raids 'targetting' al-Qaeda kill 18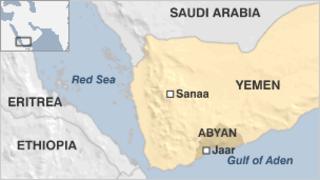 At least 18 people are reported to have been killed in air strikes against al-Qaeda targets in south Yemen.
Military sources told the BBC the dead included at least five civilians. About 20 civilians were also injured.
The co-ordinated air raids come on the fourth day of an army offensive against al-Qaeda fighters in Abyan province.
The sources said 13 militants were killed in a house in the town of Jaar, and that five civilians died in a second strike.
It is believed that they were hit as they were trying to dig out the bodies of those killed in the initial attack.
Yemen is considered to be the stronghold of al-Qaeda in the Arabian peninsula.
It has been increasingly unstable since protests forced President Ali Abdullah Saleh from power in February.