'Large explosion' hits Syrian city of Aleppo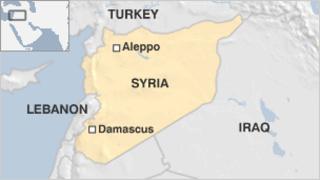 A large blast has hit the north Syrian city of Aleppo, opposition sources say, hours after officials said they had foiled a car bomb attack there.
The blast was said to have happened near the local headquarters of the ruling Baath party.
Earlier state television reported the death of a would-be bomber said to have had a 1,200kg device in his car.
On Thursday at least 55 people died in two huge blasts in the capital, Damascus.
Syrian officials say "foreign-backed terrorists" carried out the twin suicide car-bomb attacks, near military intelligence headquarters.
"There is no information until now on the number of victims that fell in the explosion [in Aleppo]," the UK-based Syrian Observatory for Human Rights told the Reuters news agency.
Reports of the Friday's blast, near Aleppo's central Al-Jabiri square, first emerged from the Observatory.
An activist in Aleppo told Agence France Presse that the blast happened at about 20:45 local time (17:45 GMT).
Earlier, Syrian state TV had reported that an attempted attack had been foiled in the al-Shaar area of Aleppo when security forces killed the would-be bomber.
Activists in the city had dismissed that report as "a lie".
Opposition figures have accused the government of President Bashar al-Assad of staging bomb attacks in an attempt to discredit them.