Syria unrest: Bomb attack foiled in Aleppo - state TV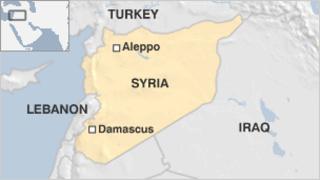 Syria has foiled a attempted suicide car bomb attack in the northern city of Aleppo, state TV says, a day after massive blasts in the capital Damascus.
It says the security forces killed the would-be bomber, who had 1,200kg (2,640lb) of explosives in the car.
On Thursday, 55 people died in the two Damascus blasts near a military intelligence building.
Syrian officials say "foreign-backed terrorists" carried out the twin suicide car-bomb attacks.
On Friday, Syria's state TV said the attempted attack had been thwarted in Aleppo's al-Shaar area.
It said the bomber was killed before he could detonate the powerful device.
There has been no independent verification of the report so far.
Syrian activists in Aleppo immediately dismissed the report as "a lie".
"It is not in the interests of the (rebel) Free Syrian Army to stage attacks on a Friday," activist Mohammad al-Halabi told the AFP news agency.
He said Friday had traditionally been the day of weekly mass anti-regime protests in recent months.
Opposition activists have accused the government of President Bashar al-Assad of staging bomb attacks, including Thursday's, in an attempt to discredit them.
'Terrible violence'
The Syrian authorities said that almost 400 people were wounded in Thursday's attacks in Damascus.
The interior ministry said the attackers used two cars "loaded with more than 1,000kg of explosives and driven by suicide bombers".
The explosions damaged the facade of a 10-storey military intelligence building involved in the crackdown on the uprising against President Assad's rule.
It is part of a broader military compound of the Palestine Branch, one of the most feared among the more than 20 secret police organisations in the country, correspondents say.
The unit was originally set up in the 1950s to interrogate suspected Israeli spies. But it has evolved into the country's counter-terrorism unit, and is infamous for interrogations and torture, they say.
Large crowds later gathered despite the security cordon, shouting slogans and chants in support of President Assad.
The Norwegian head of the UN observer mission in Syria, Maj Gen Robert Mood, said the Syrian people did not deserve this "terrible violence".
The blasts have been widely condemned by the international community.
The UN says at least 9,000 people have died since pro-democracy protests began in March 2011.