Israeli parliament approves Likud-Kadima coalition deal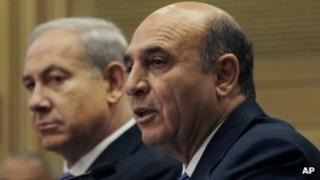 The Israeli parliament has approved a coalition deal between Prime Minister Benjamin Netanyahu's Likud party and the Kadima party of Shaul Mofaz.
The new government will have a majority of 94 in the 120-seat Knesset - one of the biggest in Israeli history.
The surprise announcement of the deal on Tuesday came after Mr Netanyahu had said he wanted early elections.
He said the coalition would be "good for security, good for the economy and good for the people of Israel".
The prime minister also made a commitment to promote a "responsible" peace process with the Palestinians and hold "serious" talks with Mr Mofaz about Iran's nuclear programme.
'Cheap politics'
The Kadima leader was immediately sworn in as a minister without portfolio within the prime minister's office on Wednesday, after the Knesset approved his appointment by 71 votes to 23.
Mr Mofaz will also serve as one of Mr Netanyahu's deputy prime ministers.
Wednesday's vote followed a lengthy debate in which MKs were allowed to make short speeches. Some opposition members criticised Mr Mofaz for what they called "opportunism" and "cheap politics".
Only a few weeks ago, Mr Mofaz said the previous coalition represented "all that is wrong with Israel", and in March he pledged never to join it.
However, opinion polls suggested the number of seats Kadima currently holds might be halved if an election was held later this year.
On Tuesday, the former defence minister and military chief-of-staff, who became Kadima leader just over a month ago, insisted there were "times in the life of a nation in which it is required to take significant decisions".
"The time has come to change the agenda. This is a move of unity which is important to Israel's future," he added.
According to an outline of the coalition deal, Mr Mofaz will also be a member of the Security Cabinet and Mr Netanyahu's inner circle - previously known as the Forum of Eight. Kadima will also chair four powerful parliamentary committees, including defence and foreign affairs.
The prime minister also agreed to support Kadima's call for changes to the so-called Tal Law, which allows ultra-Orthodox Jewish seminary students to defer military conscription. Secularists say the law is unfair and in February the Supreme Court declared it unconstitutional.