Israeli coalition deal surprises media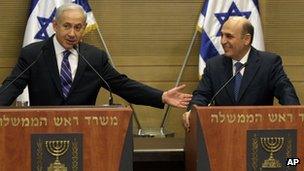 The surprise announcement that Israeli Prime Minister Benjamin Netanyahu was bringing the opposition Kadima party into his governing coalition dominates the Israeli media on Tuesday.
The coalition deal, which saw Mr Netanyahu's Likud party withdraw a request for an early general election in September, also stirs Israel's lively social media scene and attracts sombre comment in the Arab press.
Commentator Nahum Barnea in the big-selling, centrist newspaper, Yediot Aharonot, warns of a danger to Israel's democratic process.
"What was here? A convergence of interests between two politicians, each one with his own trouble. Mr Mofaz has an abundance of Knesset members but no voters. Mr Netanyahu has abundance of voters, but he saw his party and his coalition gradually slipping away from his hands. The damage to Israeli democracy is that from now the government has no parliamentary opposition. Don't cry for Mr Netanyahu's morality or Mr Mofaz's credibility. Cry for Israeli democracy."
Shalom Yershali in Ma'ariv, another centrist daily, asks: "What is this if not contempt for democracy? Mr Mofaz, who presented himself yesterday as a consistent person, forgot his last zig-zag. On his Facebook page he showed resolute opposition to such government: 'Listen very well,' Mofaz rebuked all the doubters, 'I will not enter Bibi's government, not today, not tomorrow and not after I head Kadima'".
But the English-language Jerusalem Post disagrees, saying the deal to set up "the broadest coalition government in Israeli history presents a unique opportunity".
It says small parties have always taken advantage of the "extreme proportional representation system" in Israel.
"The unprecedented size of the new government coalition and its consequent stability provides a unique opportunity to institute much-needed electoral reforms".
In an Israel Hayom commentary, "Netanyahu, King of Israel", news editor Amir Mizrokh says Mr Netanyahu has immensely strengthened his hand with "the deal of his life".
"By striking the kind of deal he struck with Shaul Mofaz of Kadima - the deal of his life - the prime minister has put himself out of the reach of his party's right wing, out of the reach of Foreign Minister Avigdor Lieberman's machinations, out of the reach of Shas' extortions, and out of the reach of US President Barack Obama."
And commenting on the issue of illegal Jewish settlement outposts in the West Bank, centre-left daily Ha'aretz says: "Netanyahu can and must carry out the Supreme Court's decisions, evacuate Migron and Ulpana, and resume talks with the Palestinians with no evasions and no superfluous preconditions."
The Jerusalem Post also points out how the news broke on Facebook.
It says Likud Deputy Knesset Speaker Carmel Shama-Hacohen leaked information about the deal on his Facebook page early on Tuesday.
"At 2 in the morning, suddenly the Likud Central Committee meeting is starting to get interesting," he wrote.
Shama-Hacohen added that a "national unity coalition would make this government's term stable".
And the Post relates how Noy Aloosh, a musician with a large following for political comment delivered via remixes of songs and statements by politicians posted his latest "Shaul Mofaz Hit: He's a liar".
"The viral clip did not bode well for Israel's newest cabinet member, even though it received a lot of laughs," the daily says.
Another Facebook post satirised Mr Mofaz in a spoof advert for a comfortable office chair.
"Unprecedented sale for members of the Kadima party: minister's chair. An orthopaedic chair made of elephant skin, particularly suitable for the spineless."
Some Arabic-language titles see the Israeli coalition deal as a possible curtain-raiser for a military strike against Iran.
A commentary in Al-Hayat al-Jadidah, owned by the Palestinian Authority says: "The new Israeli government is a government of war on two fronts. The first one is the front of enhancing the settlement activity and aggression against the Arab Palestinian people in an attempt to completely undermine the peace process. As for the second front, it is the war on Iran. The way is clear now for the extreme right-wing government to commit the greatest acts of aggression and terrorism."
And in another Palestinian paper, Al-Ayyam, Hani Habib says: "The formation of the national unity government sends a message to the world that Israel can drag itself into a war with Iran. Nevertheless, I think that this is a mere message and nothing more."
The London-based daily Al-Quds Al-Arabi says "it is an alliance for war and not an alliance for peace, as national unity governments in Israel are usually formed to fight wars, regional wars in particular".
BBC Monitoringselects and translates news from radio, television, press, news agencies and the internet from 150 countries in more than 70 languages. It is based in Caversham, UK, and has several bureaux abroad. For more reports from BBC Monitoring, click here
Related Internet Links
The BBC is not responsible for the content of external sites.