Iraq's Tariq al-Hashemi faces Interpol arrest notice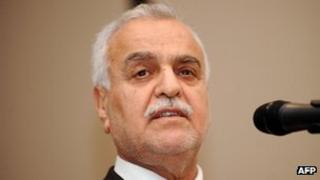 International police organisation Interpol has issued a worldwide alert for the arrest of fugitive Iraqi Vice-President Tariq al-Hashemi.
He is accused of running Sunni death squads in post-invasion Iraq to target Shia officials - which he denies.
He fled to Kurdish-run northern Iraq when the allegations emerged in 2011, and later visited other countries.
Turkish Prime Minister Recep Tayyip Erdogan said Mr Hashemi was currently in Turkey for medical treatment.
"Mr al-Hashemi is in our country due to his health problems and to hold talks regarding latest developments," Mr Erdogan said. "I believe, he will return his country following his treatment."
Interpol on Tuesday issued a "Red Notice" - a request for local police to detain a wanted person with a view to their extradition.
Many of Interpol's members consider it a valid arrest request, but a Red Notice is non-binding and is not a formal international arrest warrant.
Interpol Secretary-General Ronald Noble said the move would "significantly restrict his [Hashemi's] ability to travel and cross international borders".
'Politically motivated'
Mr Hashemi is currently believed to be staying in Istanbul, having also passed through Qatar and Saudi Arabia after leaving northern Iraq.
The most senior Sunni politician in Iraq, he is being tried in absentia at a Baghdad court.
Mr Hashemi is accused of running a death squad with his bodyguards which is alleged to have carried out a campaign of political assassinations and bombings at the height of Iraq's insurgency.
Prosecutors allege he was involved in the killings of a top official in the national security ministry, another official in the interior ministry, a lawyer and six judges.
In total, the authorities say Mr Hashemi is linked to a total of 150 killings.
He denies all the charges and says the case is politically motivated. He also alleges that three of his bodyguards died under torture while investigators tried to extract false confessions.
Correspondents say it is not clear if Turkey, an Interpol member, will respond to the Red Notice and move to arrest the Iraqi vice-president, but it seems unlikely.
At a news conference on Tuesday, Mr Erdogan said his government had always supported Mr Hashemi and would continue to do so in the future.
In April, Qatar refused an Iraqi request to extradite him, saying it would go against diplomatic norms.