Bedouin in Egypt's Sinai 'release Fijian peacekeepers'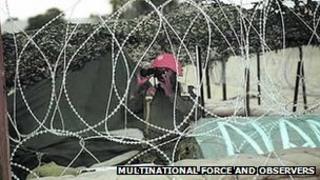 Bedouin have freed 10 Fijian members of an international peacekeeping force who were briefly detained in Egypt's Sinai Peninsula, security sources say.
The abductors reportedly demanded the authorities release from prison several fellow tribesmen, some of whom had been convicted of terrorism.
They freed the Fijians after receiving assurances that their demands would be met, one tribesman told the AFP.
The Multinational Force and Observers (MFO) has not commented on the reports.
In March, Bedouin blocked access to the MFO's North Camp at al-Gorah for a day to press for tribesmen's release.
They pulled back after giving officials a month to examine their demands.
The MFO is an independent force formed to monitor the borders between Egypt and Israel following the 1979 peace accord. It consists of military staff from 12 countries including the US and France.
Fiji provides an infantry battalion, whose mission is to observe and report all activities in the Northern Sector of Zone C, which includes the major border crossings at Rafah, Kerem Shalom and al-Awga/Nizzana.
Restive region
Sinai Bedouin routinely complain of unfair treatment and neglect by Egypt's government. They regularly press their demands by staging protests and blocking roads. Occasionally they take tourists hostage.
Such incidents have increased in frequency since the overthrow of the former President Hosni Mubarak last year.
The imprisonment of Bedouin arrested in the aftermath of the Red Sea attacks is a longstanding grievance.
Bombings took place at tourist locations in Taba in 2004, at Sharm el-Sheikh in 2005 and Dahab in 2006. A total of 130 people were killed.
Thousands of Bedouin were arrested by the Egyptian authorities after the bombings. Hundreds remain imprisoned without trial.
Egypt's interim government recently announced that death sentences issued to three men convicted of involvement in the bombings had been overturned after their trials were deemed unfair.