Yemeni al-Qaeda leader 'killed in drone strike'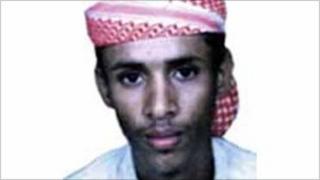 An al-Qaeda leader in Yemen wanted in connection with the 2000 bombing of the American warship USS Cole has been killed in an air strike, officials say.
A tribal leader in the east of the country says Fahd al-Quso was hit by missiles fired from an unmanned drone.
His death was confirmed by al-Qaeda and Yemen's embassy in the US. At least one other man died in the strike.
Officials later said at least 20 soldiers had been killed by militants in revenge for the attack.
A Yemeni military official told the AFP news agency that gunmen had attacked two army posts outside Zinjibar, the provincial capital of Abyan province.
Officials told the Associated Press that 25 soldiers had also been captured. Government forces later killed 16 militants in shelling elsewhere in Abyan, they said, speaking on condition of anonymity.
Zinjibar has been controlled by groups linked to al-Qaeda's local offshoot, al-Qaeda in the Arabian Peninsula (AQAP), since May 2011.
Reward
Quso's death was reported once before, in 2009, only for him to reappear. This time, however, the reports seem to be more definitive, reports BBC Middle East correspondent Jon Leyne from Cairo.
Witnesses say he was hit by a missile as he stepped out of a vehicle, along with another al-Qaeda militant, in a remote mountain valley in the southern province of Shabwa.
The strike, which was reportedly carried out by the CIA with the authorisation of the Yemeni government, came after an extended surveillance operation.
The US had offered a $5m (£3.1m) reward for information leading to Quso's capture or death.
A US official welcomed the death of the "senior terrorist operative". He told AFP that Quso had been planning further attacks against the US and Yemen.
The USS Cole was attacked in October 2000 while it was moored near the southern Yemeni port of Aden. Militants in a boat packed with explosives blew a hole in the destroyer's side, killing 17 US sailors and wounding 40.
In April 2003, Quso was being held by the Yemeni authorities in connection with the attack when he escaped. He was recaptured 11 months later, but was released from prison early in 2007 despite US protests.
He was also reported to have played in a part in an attempt by AQAP to blow up a US passenger jet as it flew into Detroit on 25 December 2009.
A year later, Quso was designated a global terrorist by the US state department because of what officials said was his growing role in AQAP.
The Yemeni government has stepped up its battle against AQAP since Ali Abdullah Saleh stepped down as president in November.
However, the group and its allies still control large parts of the country.
'Care and thoughtfulness'
The US has never formally acknowledged the use of drones against Yemeni al-Qaeda suspects, but is thought to have carried out eight other attacks of this kind so far this year.
Last Monday, US President Barack Obama's top counter-terrorism adviser defended the use of drone strikes, saying they had reduced risks for US pilots and crews, limited civilian casualties and helped prevent the US from being drawn into broader conflicts.
"Large, intrusive military deployments risk playing into al-Qaeda's strategy of trying to draw us into long, costly wars that drain us financially, inflame anti-American resentment and inspire the next generation of terrorists," John Brennan said in a speech.
"We only authorise a particular operation against a specific individual if we have a high degree of confidence that the individual being targeted is indeed the terrorist we are pursuing," he added. "This is a very high bar."
Mr Brennan said the targeted individual had to have been actively involved in a plot to attack US forces, facilities or other targets. The decision to fire a missile was made with "extraordinary care and thoughtfulness", he insisted.
Four US citizens have been killed in drone strikes, including Anwar al-Awlaki, a radical Islamist cleric thought to be a leader of AQAP.