Iran President Ahmadinejad in parliamentary poll setback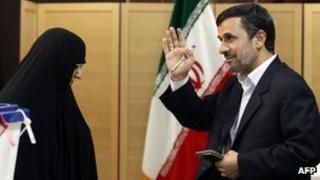 Iran President Mahmoud Ahmadinejad has suffered a fresh setback in run-off parliamentary polls.
Mr Ahmadinejad's supporters won only 13 of the 65 seats up for election in Friday's vote, further reducing his power base in the 290-seat parliament.
Conservative supporters of the Supreme Leader had already won an outright majority in March's first round.
Iran's parliament lacks executive power but plays a part in choosing next year's presidential contenders.
Mr Ahmadinejad's influence has been falling since he fell out of favour with the Supreme Leader, Ayatollah Khamenei, last year.
'Take it seriously'
According to final results announced on state TV, Mr Ahmadinejad's main conservative rivals won 41 seats of those contested, while independents won 11.
The president's supporters appeared to have fared best in the capital Tehran, where nine seats were won out of a total of 25.
Iranian media is reporting a high turn-out, which the government describes as a sign of trust in the political system and in Iran's approach to Western pressure over the nuclear issue.
Speaking to reporters after casting his vote on Friday, Ayatollah Khamenei called for a high turnout. Officially, it was 64% in March.
"My advice is that people take the run-off as seriously as the first round," he said. "The higher the number of votes for lawmakers... the better they can work."
The new parliament will begin its sessions in late May.
All of the candidates had to be pre-approved by Iran's Guardian Council, which means the contests are effectively between different conservative factions - supporters of the Supreme Leader and Mr Ahmadinejad.
The leaders of the opposition Green Movement have been under house arrest for more than a year and were barred from taking part in the elections.
Other reformist politicians also asked their supporters to stay at home.
Mr Ahmadinejad is required to step down in August 2013, after two four-year terms in office.