Saleh nephew 'quits as Yemen presidential guard chief'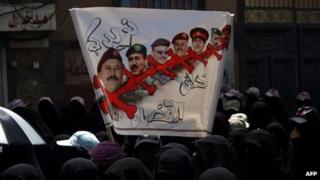 The nephew of the former Yemeni president, Ali Abdullah Saleh, is reported to have agreed to stand down as head of the Presidential Guard.
Gen Tariq Mohammed Abdullah Saleh was sacked on 6 April along with nearly 20 other senior officers as part of a restructuring of the armed forces.
But he refused to accept the decision of President Abdrabbuh Mansour Hadi.
On Tuesday, the head of the country's air force, Gen Mohammed Saleh al-Ahmar, also finally agreed to step down.
Gen Ahmar - a half-brother of the former president - had demanded the dismissal of the country's defence minister and other senior officials.
Enduring power
President Hadi's decision to replace senior military officers, including Gen Ahmar and Gen Saleh, was agreed by Yemen's main political parties.
It was also supported by the United States and neighbouring Gulf states, which brokered a power-sharing deal that saw Mr Saleh step down in November, Mr Hadi elected president in February, and the formation of a national unity government.
On Sunday, the US ambassador, Gerald Feierstein, warned members of the former government that the international community could take unspecified steps if the president's orders were not implemented.
One unconfirmed report said Gen Ahmar had been appointed assistant to the defence minister after agreeing to step down as air force chief.
Mr Saleh, who ruled Yemen for 33 years, packed the senior ranks of the armed forces with his supporters and relatives. His son and other allies remain in place as commanders of powerful military units.