Palestinian minister resigns over web censorship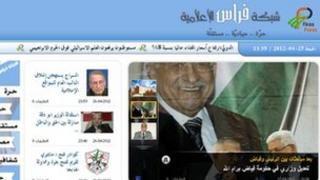 The communications minister of the Palestinian Authority has resigned, claiming it was trying to silence its critics and curb freedom of expression.
Mashour Abu Daqa said senior officials had ordered several opposition websites to be blocked over the past six months.
He said the moves were bad for the image of the PA in the modern world.
Security forces have also recently arrested four journalists and an activist who had criticised President Mahmoud Abbas and other officials.
The United States state department has expressed its concern.
'Ineffective'
The BBC's Rupert Wingfield-Hayes in Jerusalem says the PA has been accused of many things by its detractors, including being undemocratic, ineffectual and corrupt.
But until now it has had a reasonable claim to have allowed freedom of speech in the West Bank, our correspondent says. Now that too is in question.
On Thursday night, Mr Abu Daqa announced he was stepping down and revealed that the PA's attorney general had ordered Palestinian internet service providers to block access to at least eight websites in the past six months.
The blocked websites - Amad, Fatah Voice, Firas Press, In Light Press, Karama Press, Kofia Press, Milad News and Palestine Beituna - were all highly critical of the leadership of Mr Abbas, and are loyal to one of his harshest opponents, Mohammed Dahlan, our correspondent says.
The Fatah movement, which dominates the PA, expelled Mr Dahlan in June after he accused Mr Abbas of being a weak leader and of allowing his sons to benefit financially from his rule. Police recently raided his home in the West Bank.
Mr Dahlan was once the powerful Preventative Security Chief for the Gaza Strip, but he was widely criticised in 2007 by senior Fatah officials for losing control of the coastal territory to the rival Islamist movement, Hamas.
Mr Abu Daqa said the closure of the websites linked to Mr Dahlan was "bad for the image of the Palestinian Authority in the modern world".
He also predicted that the policy would ultimately be ineffective because those behind the websites could simply change their domain names.
US state department spokeswoman Victoria Nuland said it was concerned about "uses of technology that would restrict access to information".
"We've had these concerns in other parts of the world, and we wouldn't want to see the PA going in the direction that some of those regimes have gone in," she added.