Pop songs praise Egyptian presidential candidates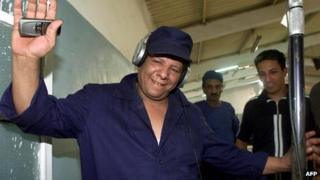 Campaigning for the upcoming Egyptian presidential election has taken on a new dimension after a number of campaign songs emerged on the internet.
The tunes, produced in different styles, attempt to win over voters by singing the praises of particular candidates.
Among these are songs for the most prominent contenders, including Abdel Moneim Aboul Fotouh, Hamdin Sabbahi and Amr Moussa - all available on the video-sharing website YouTube.
'Neither American nor British'
An Egyptian-folk-style song promotes Mr Aboul Fotouh, a moderate Islamist and a former senior member of the Muslim Brotherhood. The singer is Isam Gaga.
"Aboul Fotouh will protect our country... he will restore our rights, and we will find our livelihood," it says.
The song is accompanied by several still pictures of the presidential candidate, along with campaign posters and footage of him speaking during election gatherings.
It hails Mr Aboul Fotouh as a "clean" person who will be independent in his decisions.
"He is neither American nor British nor Iranian... he did not steal land... he is a clean guy," Gaga croons.
The Love of the People is a Gift is one of several songs that promote Mr Hamdin Sabbahi, who is inspired by the late President Gamal Abdel Nasser.
The singer, Ali Habib, paints an image of Mr Sabbahi as a man of the people.
"O Hamdin, the love of the people is a priceless gift... for this, continue with us and pay the debt."
The video of the song shows still pictures of Mr Sabbahi among demonstrators, carried on people's shoulders and wrapped in the Egyptian flag.
Reflecting on how Mr Sabbahi stood against the government of former President Hosni Mubarak, Habib chants: "In parliament you exposed the fakery and were a thorn in their side."
Another song supporting Mr Sabbahi, Left Or Right, We Love You Hamdin, is accompanied by pictures and videos of the candidate among ordinary and poor people.
A third song, The Conscience Of The Homeland, is performed in a nationalist style and glorifies the candidate's patriotic track record, from his student days to his time as an MP.
'I love Amr Moussa'
Amr Moussa, the former foreign minister and Arab League secretary general, has also had his share of promotional songs.
In I love Amr Moussa , pop star Shaban Abdel Rahim declares his love of Mr Moussa because he is "sincere and sensible".
In common with other election songs that try to sell candidates as ordinary people and in touch with the grassroots, the singer chants: "I love Amr Moussa because he is like us and I feel he is my friend and one of us."
"If you know Amr Moussa, you will feel he is your brother, and your neighbour or your colleague, and your uncle or your father."
Enumerating the qualities he sees in Mr Moussa, Abdel Rahim says: "And he is also a veteran politician recognised by the world."
"He was a foreign minister and all people loved him and at the Arab League he was nominated and was chosen."
According to the song, Moussa's history and achievements "are too many to count", and he "will be the best president and will rule our country Egypt".
In 2000, Shaban's song, I Hate Israel - which was accompanied by the catchy refrain "But I love Amr Moussa" - captured the public mood at the time and caused a great deal of controversy - and surprised many by getting past the Egyptian censors.
'A leader wanted'
The song, A Leader Is Wanted , is performed by the Cairokee band as they walk along a street and it emphasises the qualities which its young producers believe should be embodied by Egypt's new leader.
It says: "A leader is wanted for people who were betrayed, misled and absented by their rulers.
"But despite the oppression, [the people] rose up... In two weeks, they shook the forts of the executioners and brought down the regime on the heads of all the corrupt.
"A leader is wanted to protect the rights and bring justice among people... and be kind to the poor... and hard on the corrupt... and listens to our pulse of our hearts and be among us and never lives in palaces... and consults and takes our opinion.
"Shape is not a requirement, age is not a requirement and religion is not a requirement. The only requirement is to be human."
BBC Monitoring selects and translates news from radio, television, press, news agencies and the internet from 150 countries in more than 70 languages. It is based in Caversham, UK, and has several bureaux abroad. For more reports from BBC Monitoring,