Jordan begins Libya police training programme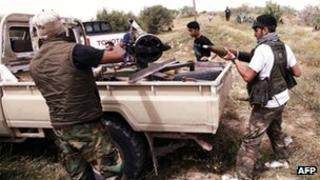 Jordan has begun training Libyan policemen as part of a programme to strengthen ties between the countries.
They will take part in a three-month course in public order, security and investigative work at an international academy outside Jordan's capital Amman.
The 10,000 recruits are all members of former rebel forces that toppled Libyan dictator Muammar Gaddafi.
Some 550 Libyan officers will also receive special forces training in combating terrorism.
The training programme is part of a wider plan to re-integrate 200,000 former rebel fighters into Libyan society.
Since the fall of Col Gaddafi, there have been many clashes between various heavily armed and ill-disciplined rebel groups inside the country.
The interior ministry has employed 70,000 of the former fighters as part of Libya's new security forces.