Palestinian prisoners in Israel continue hunger strike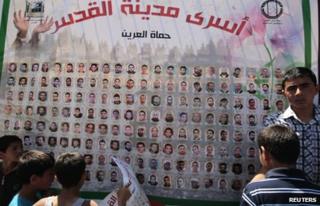 The Israel Prison Service has said that more than 1,300 Palestinian prisoners remain on hunger strike, more than a week after they began their protest.
The detainees want an end to Israel's controversial policy of "administrative detention" and solitary confinement for prisoners, often for months at a time.
There are thought to be around 5,000 Palestinians held in Israeli jails.
Many of them are affiliated to militant groups, but hundreds are also being held indefinitely without trial.
Privileges revoked
It was in protest against indefinite detention and demanding better conditions inside Israeli jail that more than 1,000 Palestinian prisoners began a hunger strike eight days ago.
On Tuesday, the Israeli Prison Service said that about 1,350 prisoners were still refusing food, although according a prisoners' support group they are receiving water and salts.
"The majority of them are affiliated with Hamas, Popular Resistance [Committees] and Islamic Jihad, and are imprisoned in the southern jails," the Israeli Prison Service added.
Israel is reported to have taken punitive measures against the hunger strikers, denying them family visits and separating them from other inmates.
A spokeswoman for the prison service confirmed that some privileges had been revoked.
Administrative detention is a controversial practice that allows prisoners to be held indefinitely with no requirement to charge them for any offence.
About 300 Palestinians are detained this way, but Israel denies they are mistreated and says it has dealt with hunger strikes in the past and would do so again.