Egypt scraps Israel gas supply deal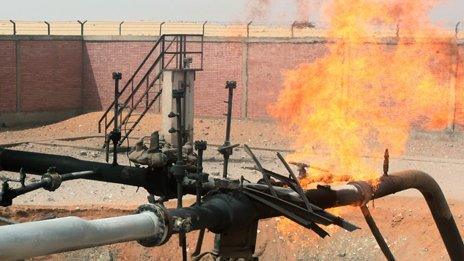 Egypt's state-owned gas company says it has scrapped a controversial deal which supplies Israel with 40% of its natural gas at lower than market prices.
Egyptian Natural Gas Holding Company (EGAS) complained it had not been paid by the Israeli-Egyptian firm that buys gas from Egypt and sells it to Israel.
Israel denied the claim and warned Egypt that it was violating an economic annex of their 1979 peace treaty.
Egypt's military rulers have not yet commented on the deal's cancellation.
The deal was widely unpopular in Egypt, but solidly backed by former President Hosni Mubarak who was forced to step down last February after mass protests.
Since then, the pipeline delivering gas from Egypt to Israel and Jordan has been bombed at least 14 times, reducing supplies significantly.
Gas deliveries to Israel dried up for a total of 225 days in 2011 and 66 days during the first three months of 2012, and ceased after an explosion on 5 March, according to Ampal-American Israel Corporation - a stakeholder in East Mediterranean Gas Company (EMG), which operates the cross-border pipeline.
The shortages have seen the state-owned Israel Electric Company increase rates by a third and warn of rolling blackouts this summer.
Ampal announced on its website on Sunday that EGAS and the Egyptian General Petroleum Corporation (EGPC), another state-owned firm, had told EMG that they were "terminating the Gas Supply and Purchase Agreement".
"EMG [the pipeline operator] considers the termination attempt unlawful and in bad faith, and consequently demanded its withdrawal," a statement said.
"EMG, Ampal and EMG's other international shareholders are considering their options and legal remedies as well as approaching the various governments."
Ampal is already using international arbitration to try to get compensation for the supply shortages it has experienced since the uprising.
The chairman of EGAS, Mohammed Shoeb, said it had scrapped the deal on Thursday because EMG had failed to pay for the past several months.
"It is a commercial contract between companies," he added.
Israeli Foreign Minister Avigdor Lieberman told Israeli radio stations that the cancellation of the agreement was "not a good sign", but added: "We want to understand this as a trade dispute."
"I think that to turn a business dispute into a diplomatic dispute would be a mistake. Israel is interested in maintaining the peace treaty and we think this is also a supreme interest of Egypt," Mr Lieberman added.
It remains unclear whether Egypt's ruling Supreme Council of the Armed Forces (Scaf) will intervene. It has not yet commented and Israeli officials said they had not yet been formally notified.
Former President Mubarak faces criminal charges for his role in the 20-year gas supply agreement, which was signed in 2005. A close associate, EMG co-owner Hussein Salem, is facing extradition from Spain.
Israeli officials insist the terms of the contract are fair, but Egyptian prosecutors said last April the state had lost more than $714m.
The details of the deal have never been released publicly, but former Egyptian officials have said the gas was initially sold to EMG at about $1.25 per British thermal unit (BTU), and then increased in 2008 to $4 per BTU. EMG was able to negotiate its own terms with Israeli buyers.
The government sells gas to Egyptian companies for about $4 per BTU, while comparable deals see Turkey, Greece and Italy paying $7 to $10.
"The big saying here in Egypt is that we are subsidising the Israeli people while we are not subsidising the Egyptians," Tamer Abu Bakr, the chairman of Genco Group, an Egyptian natural gas distribution company, told the Wall Street Journal.