Iran football great Ali Daei 'sues Toyota' over crash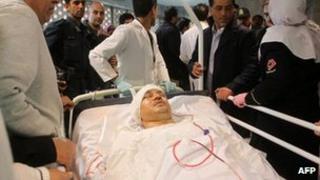 Iranian football great Ali Daei is suing Toyota because the airbags in his car did not deploy in a crash that left him seriously hurt, his family says.
His car overturned as he drove to the capital, Tehran, from Isfahan on 17 March, after a match involving Rah Ahan, the team he now coaches.
His brother said the airbags did not work, but a Toyota official in Iran said they might have been switched off.
The 42-year-old is the world's top goalscorer in international matches.
He scored 109 goals in 149 international games for Iran.
'Divorced the Toyota'
Daei, who was also a striker for Iran's Team Melli and Bayern Munich in Germany, suffered a head injury in the car accident which required surgery, Iranian media reported at the time.
He was travelling in his Toyota Prado with his brother, Mohammed, and the coach of Rah Ahan, a team based in Tehran suburb of Rey that plays in the Iran Pro League (IPL).
Mohammed Daei said they had refrained from sending the car to a garage for repair so they could prove that its 18 airbags did not work.
"He is driving his Porsche and has divorced the Toyota for the time being," he added.
But a Toyota spokesman in Tehran, who asked not to be named, told the BBC it did not believe the airbags had malfunctioned.
"It is hard to believe that in such an accident the airbags did not work. There is an on-and-off switch in these models and perhaps they had put the switch set to 'off'," he said.