Hassan Nasrallah, Hezbollah chief, offers Syria mediation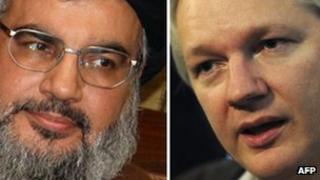 The leader of the Lebanese militant group Hezbollah has said he would act as a mediator in the Syrian conflict, in his first international interview for six years.
Sheikh Hassan Nasrallah said his group "would be more than happy to mediate", while urging a political solution.
Sheikh Nasrallah was interviewed by Wikileaks founder Julian Assange for Russia's RT cable TV channel.
Hezbollah has backed Syrian President Bashar al-Assad since the crisis began.
Speaking from a secret location, Hassan Nasrallah said he had spoken to the opposition but they were unwilling to negotiate.
Sheikh Nasrallah, who has led the Lebanese Shia Islamist group since the early 1990s, said: "We contacted the opposition early on but they refused any dialogue with the regime.
"We'll be more than happy to mediate, but we are asking others to make their effort to create a political solution."
'Spoken as friends'
Julian Assange conducted the interview by videolink from a secret location in the UK, where he is fighting extradition to Sweden over allegations of sexual assault.
The interview was recorded several weeks ago, before the UN-backed peace plan brokered by Kofi Annan was put in place.
It focused on Syria, with Sheikh Nasrallah saying his organisation has been in "constant contact with the Syrian leadership".
"We've spoken as friends giving advice about the importance of reforms. We believe [Bashar al-] Assad is very serious about carrying out radical reforms," he added.
Mr Assange pointed out that while Hezbollah can be trusted not to be on the side of the West or the Gulf countries, there would always be a perception that it is biased in favour of Bashar al-Assad's regime.
Sheikh Nasrallah replied that Hezbollah is "friends not agents of Syria" and suggested that other countries were fuelling conflict by refusing to negotiate with the Syrian government. He alleged that al-Qaeda has sent fighters to Syria.
The interview also touched on Hezbollah's surveillance techniques, which Sheikh Nasrallah described as an example of how "simplicity can defeat complexity", alluding to Hezbollah's long-running enmity with Israel.