UK 'will keep up pressure on Iran'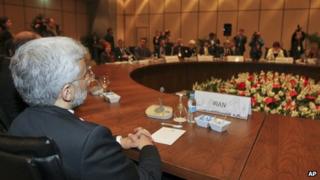 "This is a very, very difficult problem to solve," said UK Foreign Secretary William Hague in an interview conducted on red leather chairs in the Ambassadors Room of the Foreign Office.
He spoke to the BBC two days after the end of a round of nuclear talks in Istanbul between six world powers and Iran.
On and off for almost nine years, Western diplomats have held talks with Iran about the country's nuclear programme.
In 2003, EU foreign ministers agreed a brief enrichment freeze deal with Iran. But the deal collapsed.
In 2009, negotiators reached a tentative agreement on the export of part of Iran's stockpile of low-enriched uranium. But this deal was never implemented.
Turkey and Brazil tried to revive the deal the next year - but they, too, failed.
At every stage, the West has made one immediate demand of Iran - freeze all uranium enrichment. At almost every stage, Iran has said no.
This standoff over uranium enrichment has blocked progress at succeeding rounds of nuclear talks.
The West fears that Iran will perfect the enrichment process and use its centrifuges to learn how to make fissile material for a nuclear bomb.
But Iran says that its aims are entirely peaceful - and that uranium enrichment is its non-negotiable right.
Second round
In Istanbul on Saturday, negotiators met again and they decided to continue talking.
One diplomat at the talks suggested that the uranium enrichment stand-off might be overcome. In the right circumstances, the diplomat suggested, a solution might allow Iran to continue enrichment.
"[The] reality is that progress was made in Istanbul precisely because of mutual concessions," said Trita Parsi, the president of the National Iranian American Council, and author of A Single Roll of the Dice - Obama's Diplomacy with Iran.
"The Iranians engaged on the nuclear issue without preconditions and agreed to a process to curb their enrichment, and the West in essence accepted that limited enrichment will continue on Iranian soil, under strict inspections."
A decision to offer Iran the chance to continue limited enrichment would mark a significant change in the way that the West deals with Iran.
"Will you say [to Iran]: 'You win' - you can continue to enrich low enriched uranium?'" I asked William Hague.
"I don't think we can give a public commentary all through the details of negotiations," he replied. "And certainly this first round of negotiations was more about atmosphere and exchange of views and seeing whether it would be possible to countenance making progress in a second round. So it hasn't got into these kinds of issues.
"Certainly our position, in line with UN Security Council resolutions, is that enrichment must stop. That is absolutely right.
"There will be many suggestions from all directions and of all kinds. If these talks go on for a while of course people will be constantly making suggestions. But this is not something that has been discussed so far."
Sanctions
In the next few weeks, negotiators will have the chance to raise the subject - first in preparatory talks between medium-level officials, and then at the next round of main negotiations in Baghdad on 23 May.
New ideas may be tried out - partly because all of the previous ones have failed. This history of serial failure weighs on Western diplomats.
"I think it is right to come at this always with a sceptical eye, a cautious eye," said the British foreign secretary. "We have no idea yet - no true idea - as to whether Iran really means to negotiate a peaceful solution to this programme. But we do know that there was a better atmosphere in these [Istanbul] talks."
Mr Hague's Iranian counterpart, Ali Akbar Salehi, has offered his own suggestion.
"If the West wants to take confidence-building measures it should start in the field of sanctions, because this action can speed up the process of negotiations reaching results," he told the Iranian Student News Agency.
"If there is goodwill, one can pass through this process very easily and we are ready to resolve all issues very quickly and simply and even in the Baghdad meeting."
From his red leather chair in the Ambassadors Room, Mr Hague gave a short smile.
"Well I doubt that's the case," he said. "When sanctions were weaker than they are now, of course, Iran was continuing with its nuclear programme, and indeed it may be the imposition of sanctions, the intensification of sanctions that is coming over the next few months that has contributed to Iran's readiness to come back to the negotiating table.
"So, it certainly won't be our approach to lift sanctions in the hope that something will emerge from Iranian negotiators. We will keep up the pressure," he added.