Israel suspends soldier who hit demonstrator with a gun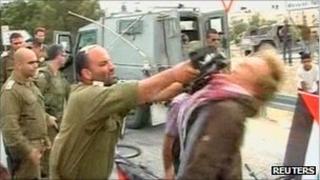 Israel's military has suspended a senior officer who struck a pro-Palestinian activist in the face with a gun, after video was posted online.
The footage shows Lt Col Shalom Eisner shouting at protesters at a cycle rally in the occupied West Bank and then hitting a man with his rifle.
His behaviour was condemned by the Israeli prime minister.
The protester, a Danish national, was treated in a Palestinian hospital for light injuries.
The incident took place on Saturday in the Jordan Valley, near Jericho, where several dozen activists - Palestinian and international - had joined a protest bicycle ride.
They say their planned route was blocked by Israeli soldiers who told them to turn back for their own safety.
After an exchange, the video shows Lt Col Eisner suddenly slamming his M-16 rifle into a demonstrator's face in an apparently unprovoked attack.
A military spokesman said the soldier had been suspended "until the conclusion of the inquiry which has been opened".
"This behaviour is not characteristic of IDF [Israeli Defence Forces] soldiers and commanders and it has no place in the IDF or in the state of Israel," said the prime minister, Benjamin Netanyahu.
The video has been shown on Israeli television and widely commented on in newspapers.
The activist, named as Andreas Ias, told Israeli media that he was well. He said that he and other protesters had been chanting Palestinian songs as they approached the soldiers.
Flytilla protests
Following a separate pro-Palestinian protest on Sunday, an Israeli police spokesman said that 79 people were refused entry at Ben Gurion International Airport.
They are said to have included nationals from France, Britain, Italy, Canada, the United States and Spain.
Some have already been sent back on return flights to their airport of origin, and others are expected to be deported soon.
The so-called "fly-in" or "flytilla" was part of a campaign called "Welcome to Palestine", that is now in its third year. Organisers, who aim to draw attention to the Israeli control of Palestinian borders and restrictions placed on international visitors to the West Bank, had said they expected about 1,500 foreign participants.
However Israel said in advance that it would prevent them from entering and warned airlines they would have to foot the cost for the activists' immediate return home.
Many European airlines then cancelled the tickets of at least 300 passengers planning to fly to Tel Aviv.
Hundreds of Israeli police had been deployed at the airport from Saturday night in an effort to prevent the arrival of a wave of foreigners.
A small group of Israeli activists who came to support the visitors was also arrested.