Ten Egyptian candidates barred from elections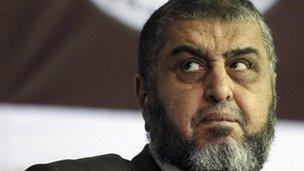 Egyptian election officials have barred 10 candidates from standing in May's presidential poll, including former spy chief Omar Suleiman and the Muslim Brotherhood's Khairat al-Shater.
Ultraconservative Salafist Hazem Abu Ismail and long-standing opposition leader Ayman Nour were also banned.
The banned candidates have 48 hours to appeal. Thirteen candidates remain.
Correspondents say the move comes as a surprise and looks set to dramatically alter the race for the presidency.
Many of those banned and their supporters have expressed anger over the move and large demonstrations are expected in the capital, Cairo.
A first round of elections is due in May, more than a year after former President Hosni Mubarak was forced to step down after an 18-day popular uprising.
Mr Suleiman - a former ally of Mr Mubarak whose nomination sparked protests - was apparently barred because he failed to get enough signatures to endorse his last minute candidacy, reports the BBC's Jon Leyne in Cairo.
Meanwhile, the hopeful representing the Salafists, Mr Abu Ismail, was ruled out because his late mother had US citizenship.
Mr Shater, a deputy leader of the powerful Muslim Brotherhood, was struck off the list because of a disputed former criminal conviction. Ayman Nour, who challenged Mr Mubarak for the presidency in 2005, was also banned under this rule.
The announcement came after growing speculation over whether candidates would be disqualified. Rumours that Mr Abu Ismail would be barred had already led to protests, while questions over Mr Shater's eligibility caused the Muslim Brotherhood to enter a second, back-up candidate, Mohammed Morsi.
As a result, the Muslim Brotherhood are best covered, while the Salafists backing Mr Abu Ismail look to be the hardest hit, the BBC's Jon Leyne reports from Cairo.
Egypt is still governed by a military council, although parliamentary elections have taken place in the meantime. The Brotherhood-backed Freedom and Justice Party (FJP) became the largest party in parliament.
At least some of the candidates are expected to fiercely contest the election commission's ruling.
"We will not give up our right to enter the presidential race," said Murad Muhammed Ali, a spokesman for Mr Shater's campaign. "There is an attempt by the old Mubarak regime to hijack the last stage of this transitional period and reproduce the old system of governance."
The lawyer for Mr Abu Ismail also denounced the decision.
Those said to remain include former Arab League chief Amr Moussa, moderate Islamist Abdul-Moneim Abulfotouh and former prime minister Ahmed Shafiq.