Iran nuclear talks: Will a compromise be reached?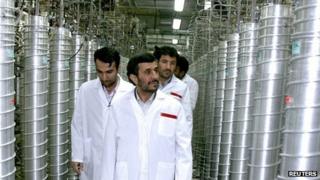 After a 15-month break, Iran and the world's major powers are about to start a new round of nuclear talks.
During the last round of negotiations held in January 2011, Iran and the world powers agreed on almost nothing. In recent weeks, negotiators struggled even to agree upon where they should meet for this new round - for a while, Iran held out for Baghdad as a venue.
President Barack Obama has described this new round of talks in Istanbul as a "last chance" for diplomacy to work. Reports suggest that Mr Obama recently asked the Turkish Prime Minister, Recep Tayyip Erdogan, to pass a message to Iran's Supreme Leader, urging Ayatollah Khamenei to take these talks seriously.
Western diplomats preparing to attend the talks are not expecting any great breakthroughs.
"You won't get a grand deal overnight," said one diplomat.
The US media reports that the Obama administration will make two specific demands of Iran: closure of its heavily fortified underground uranium enrichment facility at Fordow, and the export of Iran's stockpile of medium-enriched uranium.
Underground enrichment plant
Iran's enrichment facility at Fordow is around 20km (12 miles) outside the holy city of Qom in northern Iran. More importantly, it lies around 60-90m (250 feet) beneath mountain rock.
Analysts say Iran began construction of this plant in secret in 2006-07 on the site of an existing facility belonging to the Revolutionary Guards - the force which keeps Iran's government in power.
In September 2009, the West revealed the existence of the plant. Shortly afterwards Iran invited inspectors from the International Atomic Energy Agency to take a look.
At first, Iran said the plant would be used for the production of uranium enriched to 3.75% - known as low-enriched uranium. Later, it said the plant would be used for research and development. Then, in June 2011, Iran announced that it would use Fordow to produce uranium enriched to 19.75% - or medium-enriched uranium.
In December 2011, enrichment work began. The fact that Iran built an underground bunker in secret, then kept changing its stated purpose, worries Western observers.
"That Iran was caught building the Fordow plant in secret, and since Iran has subsequently changed the DIQ [Design Information Questionnaire] for this facility three times, raises concerns that the plant was built in order to provide Iran with the ability to quickly and securely make highly enriched uranium in the event of a breakout to make nuclear weapons," wrote the Washington-based Institute for Science and International Security in a report published in February 2012.
It is worth making one point very clear - no one has charged that Iran is currently making an actual nuclear bomb at Fordow.
The facility is under IAEA safeguards, which means that any attempt to enrich its existing supply of low- and medium-enriched uranium to weapons grade - a process known as breakout - would be noticed at once.
But observers argue that having a well-fortified underground enrichment facility makes it much easier for Iran to go ahead and make a bomb (and withstand an airstrike), should it ever decide to do so.
For its part, Iran shows little public desire to close down Fordow. To Iran's government, the site has become a symbol of political pride and defiance.
"The P5+1's request for the suspension of activities at the Fordow site is unreasonable," Fereidoun Abbasi, the head of Iran's Atomic Energy Organisation, told the Iranian Students News Agency.
Medium-enriched uranium
Reports suggest that America's second demand will be the export of Iran's stockpile of medium-enriched uranium.
Iran says it is producing medium-enriched uranium in order to fuel its Tehran Research Reactor. But Western experts argue that the amount of medium-enriched uranium that Iran is planning to produce far exceeds the amount it needs for the Research Reactor.
In itself, medium-enriched uranium does not make a nuclear weapon. It would have to be further enriched to weapons grade in order to provide fissile material for a bomb. But perfecting medium enrichment is an important step towards carrying out weapons-grade enrichment.
In its most recent report released in February 2012 the IAEA disclosed that Iran had produced 109.2kg (240 pounds) of medium-enriched uranium. That's not enough in itself to get to weapons grade. But diplomats suggest that Iran should agree to export this stockpile.
Possible Compromise
A close look at Iran's rhetoric shows there are a few signs that the country may be prepared to discuss at least some of the West's demands.
"The language of the P5+1 is softer and both sides are taking calmer positions," said Gholam Ali Hadad Adel, a former parliamentary speaker who is close to Ayatollah Khamenei. "They are talking in a more polite way."
"Iranian representatives will attend the talks with new initiatives," Iran's chief negotiator Saeed Jalili told state TV. "We are ready to hold successful and progressive talks on co-operation."
To Iran's government, the demand to surrender its stockpile of medium-enriched uranium in exchange for nothing presents little appeal. But within Iran, there are suggestions that Iran may be willing to sell its stockpile. A sale would be interpreted as a triumph for Iranian technology.
What's more, there are hints that Iran may be prepared to stop further production of medium-enriched uranium. A production halt could be sold to the public as an implied international endorsement of Iran's right to process low-enriched uranium instead.
We will soon find out.