Egypt MPs bar ex-Mubarak presidential candidates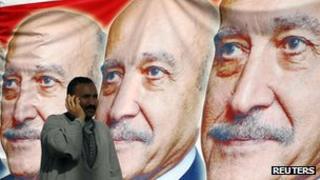 The parliament in Egypt has passed a law banning senior officials who served under ex-President Hosni Mubarak from running in May's presidential election.
It means the former Vice-President Omar Suleiman would not be able to continue as a presidential candidate.
But the law would only come into effect if it is approved by the country's ruling military council, which took power last year.
The justice ministry has already said the new measure is unconstitutional.
The BBC's Jon Leyne in Cairo says the ruling military council is likely to block the law.
He says the law was adopted as a direct response to the decision of Gen Suleiman, the country's former intelligence chief, to run for president.
The Islamist Muslim Brotherhood is the largest political force in parliament.
It is planning a large demonstration on Friday in protest at Gen Suleiman's candidacy.
The law also blocks anyone who was prime minister in the last 10 years.
This would bar the last Mubarak-era prime minister, Ahmed Shafiq, from standing.
But the measure would not apply to former ministers, meaning that leading liberal candidate and former foreign minister Amr Moussa would be allowed to continue his campaign.
Ten-year bar
The change to the law on exercising political rights stops former members of the Mubarak government, and senior officials in his now-disbanded political party, from exercising their political rights for 10 years. Hosni Mubarak stepped down as president in February last year after mass protests.
The new law applies to all those who held the office of president, vice-president or prime minister.
Gen Suleiman was the head of Egypt's intelligence service for 18 years, before taking over as vice-president just before Mr Mubarak resigned.
It was a position that gave him a central role in a regime that was accused of corruption and human rights abuses.