Iraq Vice-President Hashemi's guards 'die in custody'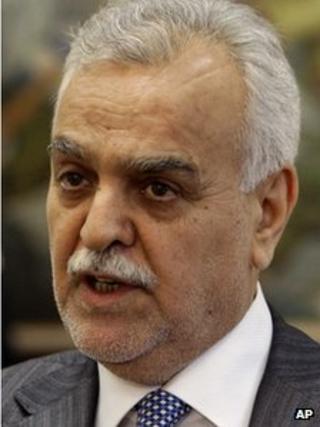 Iraq's fugitive vice-president says two more of his bodyguards have been tortured to death by security forces during a terrorism investigation.
A statement by Tariq al-Hashemi cited "reliable sources" as saying they died during interrogation as investigators tried to extract false confessions.
But the Iraqi judiciary denied there had been any new deaths in detention.
A warrant was issued in December for Mr Hashemi, accusing him of financing death squads - a claim he has denied.
He has avoided arrest by seeking refuge in Iraqi Kurdistan, where he is effectively out of reach of security forces loyal to Prime Minister Nouri Maliki.
Earlier this month, Mr Hashemi flew to Qatar and Saudi Arabia for what the two Gulf states described as "official visits", much to the anger of the Iraqi government.
He is currently in Turkey on the third stop of his regional tour.
Investigation demand
The statement published by the vice-president's website late on Tuesday alleged that two of his bodyguards died after being subjected to "severe torture" while being interrogated by security forces. It did not give their names, identifying them only by their initials - AH and AA.
The deaths occurred a few days before the Arab League summit hosted by the Iraqi government on 29 March, but their families had not been informed by the authorities nor had their bodies been released, it added.
Mr Hashemi demanded the judicial authorities investigate the deaths, as well as that of another bodyguard, Amir Sarbut Zaidan al-Batawi, who died in detention on 15 March. Officials said Mr Batawi had suffered kidney failure, but pictures of his body showed multiple bruises.
TV confessions
On Wednesday, Iraq's Supreme Judicial Council - a panel of nine judges, drawn from Iraq's main ethnic and religious factions - denied that any detainee besides Mr Batawi had died.
"After checking with the panel in charge of the investigation, we are sure that there is no torture nor any new death apart from the case of Batawi," spokesman Abdul Sattar Bayrkdar told the Associated Press.
Mr Hashemi, Iraq's most senior Sunni Arab politician, was accused of financing a personal death squad to target Shia police, judges and officials during the height of the insurgency in post-invasion Iraq.
Confessions from three men identified as Mr Hashemi's bodyguards were shown on TV. They said that under the direction of the vice-president's aides, they had bombed convoys carrying Shia officials. One man said Mr Hashemi had given him an envelope with $3,000 after one attack.
In February, the Supreme Judiciary Council said Mr Hashemi's bodyguards had carried out 150 attacks between 2005 and 2011.