Yemen unrest: Eleven killed in army checkpoint attack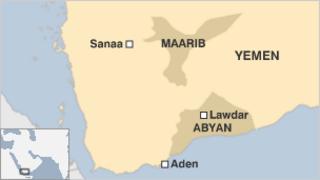 At least eight soldiers and three militants have been killed in an attack by militants on an army checkpoint in central Yemen, officials say.
Gunmen opened fire with automatic weapons on the checkpoint in Maarib province, about 300km (186 miles) east of the capital Sanaa, just after dawn.
Several soldiers were also hurt in the attack, which was blamed on al-Qaeda.
Meanwhile, more than 120 people are now said to have been killed in 48 hours of fighting in the province of Abyan.
The death toll includes more than 100 militants, 14 soldiers and eight tribesmen who were part of a local committee formed to fight al-Qaeda.
The clashes are centred on the town of Lawdar, which sources say is being besieged by militants from groups linked to al-Qaeda. On Monday, a nearby army barracks was attacked by members of Ansar al-Sharia.
The group later claimed it had captured a large cache of weapons and ammunition, including four tanks and anti-aircraft guns during the fighting.
On Tuesday warplanes bombed two sites held by the militants west of Lawdar, destroying one of the tanks, residents told the Reuters news agency. Six militants and two pro-government tribesmen died in the clashes.
Islamist militants seized large amounts of territory in Abyan during the political turmoil that led to President Ali Abdullah Saleh handing over power to his deputy, Abdrabbuh Mansour Hadi, in November.
Troops have suffered major losses trying to push them out.